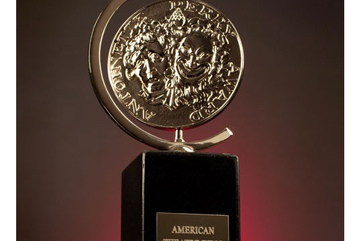 The Tony Awards® Partners with Playbill® to Produce Official 2015 Tony Awards Souvenir Program Book
March 22 2015
The Tony Awards® and Playbill® will be working together in 2015 to create a memorable keepsake for Broadway's most prestigious awards.
On March 23, the Tony Awards announced that it has joined with Playbill for a three-year partnership to produce the official Tony Awards souvenir program book, which is distributed in Radio City Music Hall on the evening of the Tony Awards. The program book will include exclusive images, interviews and stories that offer an insider's look at the Tony-nominated shows and stars of the season.
Playbill has a longstanding relationship with the Tonys, having published the program book each spring from 1967 – the first time the Awards were held in a theatre – until 2011.
"We are honored to reignite this exciting partnership with Playbill to create the Tony Awards program book, an illustrious piece of Broadway history each year," said Heather Hitchens, President of the American Theatre Wing, and Charlotte St. Martin, Executive Director of The Broadway League, in a statement.
Philip Birsh, President and CEO of Playbill added, "Providing Broadway with the best programs has been Playbill's job for 131 years. It is a great honor to serve the extraordinary talent on stages across the country, and we are equally as honored to once again serve Broadway's highest honor, The Tony Awards."
The 2015 Tony Awards
The American Theatre Wing's 69th Annual Antoinette Perry "Tony" Awards, which are presented by The Broadway League and the American Theatre Wing, will be broadcast live from Radio City Music Hall in New York City, on Sunday, June 7th, 2015 (8:00 – 11:00 p.m. ET/PT time delay) on the CBS Television Network, live from the Radio City Music Hall in New York City. The Tony Awards, which honors theatre professionals for distinguished achievement on Broadway, has been broadcast on CBS since 1978.
The official eligibility cut-off date will be Thursday, April 23, 2015, for all Broadway productions opening in the 2014-2015 season. Productions which meet all other eligibility requirements and open on or before the eligibility date are considered eligible for 2015 Tony Award nominations.
The Nominations for the 2015 Tony Awards will be announced live on Tuesday, April 28, 2015, from New York City.
A limited number of tickets to the 2015 Tony Awards will be made available to the general public. Tickets will be available at www.TonyAwards.com starting on April 28, 2015.