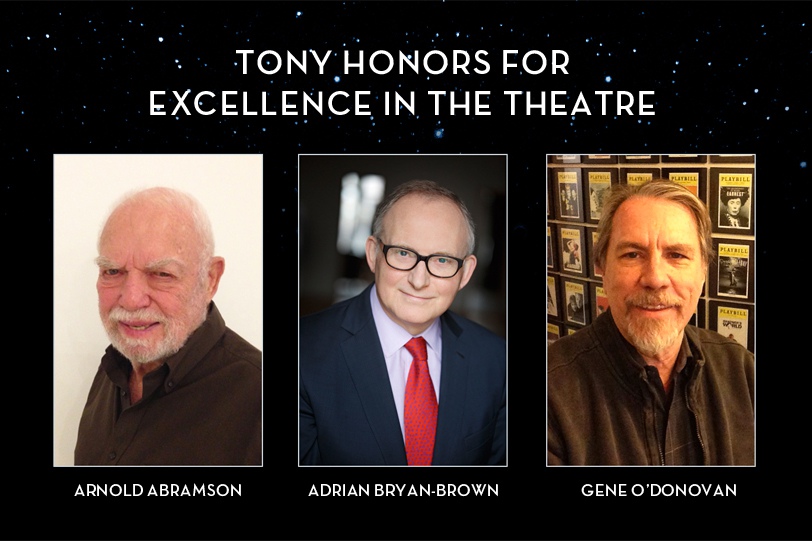 Three Broadway Veterans to Receive 2015 Tony Honors for Excellence in the Theatre
April 6 2015
On April 7 the Tony Awards® Administration Committee announced the recipients of the 2015 Tony Honors for Excellence in the Theatre.
These annual honors celebrate individuals and/or organizations that have demonstrated extraordinary achievement in theatre, but are not eligible in any of the established Tony Award categories. This year's honorees are a trio of Broadway veterans: scenic artist Arnold Abramson, press agent Adrian Bryan-Brown, and technical director Gene O'Donovan.
The honors will be presented at the Tony Honors Cocktail Party, a private cocktail reception, on Monday, June 1, at the Paramount Hotel's Diamond Horseshoe. The 2015 Tony Awards will be broadcast live on Sunday, June 7th on CBS, and are presented by The Broadway League and the American Theatre Wing.
"We are thrilled to announce that Arnold Abramson, Adrian Bryan-Brown and Gene O'Donovan are this year's recipients for the Tony Honors for Excellence in the Theatre," said Charlotte St. Martin, Executive Director of The Broadway League, and Heather Hitchens, President of the American Theatre Wing, in a statement. "They exemplify the dedication, creativity and tireless work that goes on behind the scenes to make attending a Broadway show the sensational and unforgettable experience we know it to be. We could not be more proud to honor these three outstanding individuals with this year's Tony Honors."
The Tony Honors for Excellence in the Theatre were established in 1990.
Arnold Abramson
Abramson began his career at Triangle Studios and Dunkel Studios. When William Nolan open Nolan Scenery Studios in the newly purposed Brooklyn Ice Palace in 1956, he became Charge Scenic Artist and a partner in the business. During this time, Abramson taught scene painting for seven years at Yale University and 22 years at New York University Tisch School of the Arts. Abramson moved to Florida in 1991 and opened a Union shop called Studio South where he painted several backdrops for New York City Ballet, as well as productions that were sent to New York for Broadway. Studio South also painted sets and backdrops for the Miami City Ballet, and Abramson designed four productions for Miami City Ballet. Studio South was closed in 2005, after which Abramson painted at Coconut Studios until his retirement in 2012. Abramson was the second to be honored as a Master and Legend in 2012 at SUNY Purchase.
Adrian Bryan-Brown
Adrian is a partner in Boneau/Bryan-Brown, one of the largest theatrical public relations offices working today, established in 1991 with his business partner, Chris Boneau. Adrian has worked on more than 400 shows on and Off-Broadway, consulted on theatrical productions across the country and around the world, as well as providing strategic public relations advice to the film and music businesses and other areas of the entertainment industry. Productions represented by Boneau/Bryan-Brown have received 8 Pulitzer Prizes and 195 Tony Awards. A proud member of the Association of Theatrical Press Agents and Managers (ATPAM) for more than 25 years, Adrian has taught theatrical public relations as an adjunct professor at Brooklyn College and has written about the work of a press agent in numerous publications. Adrian is married to the theatrical photographer Joan Marcus, who received a Tony Honor last year.
Gene O'Donovan
One of Broadway's most respected and successful theatre technicians, Gene has been a member of the Broadway community for more than 40 years. His passion, commitment and technical expertise has directly enhanced a host of legendary Broadway productions, including The Wiz, Barnum, Annie, 42nd Street, Joseph and the Amazing Technicolor Dreamcoat, Les Misérables, The Phantom of the Opera, The Who's Tommy, Master Class, Titanic, Spamalot, Frost/Nixon, The Book of Mormon, Matilda, Hedwig and the Angry Inch and The Curious Incident of the Dog in the Night-Time. Starting off his career in one of the preeminent scene shops of its time, Feller Scenery, Gene moved on to become a Local One stagehand, a production carpenter and the founder of one of the most influential scene shops of the past 30+ years (Hudson Scenic Studio). He founded Aurora Productions, which over the last 20 years has supervised a combined total of more than 200 Broadway shows, many Off Broadway shows, tours, and international productions in London's West End, Europe, Japan and Australia. For more than 13 years, Gene has been teaching production management at SUNY Purchase and Columbia University. Gene will be the fourth to be honored as a Master and Legend in 2015 at SUNY Purchase.
The 2015 Tony Awards
The American Theatre Wing's 69th Annual Antoinette Perry "Tony" Awards, which are presented by The Broadway League and the American Theatre Wing, will be broadcast live from Radio City Music Hall in New York City, on Sunday, June 7th, 2015 (8:00 – 11:00 p.m. ET/PT time delay) on the CBS Television Network, live from the Radio City Music Hall in New York City. The Tony Awards, which honors theater professionals for distinguished achievement on Broadway, has been broadcast on CBS since 1978. The Tony Awards are presented by The Broadway League and the American Theatre Wing.