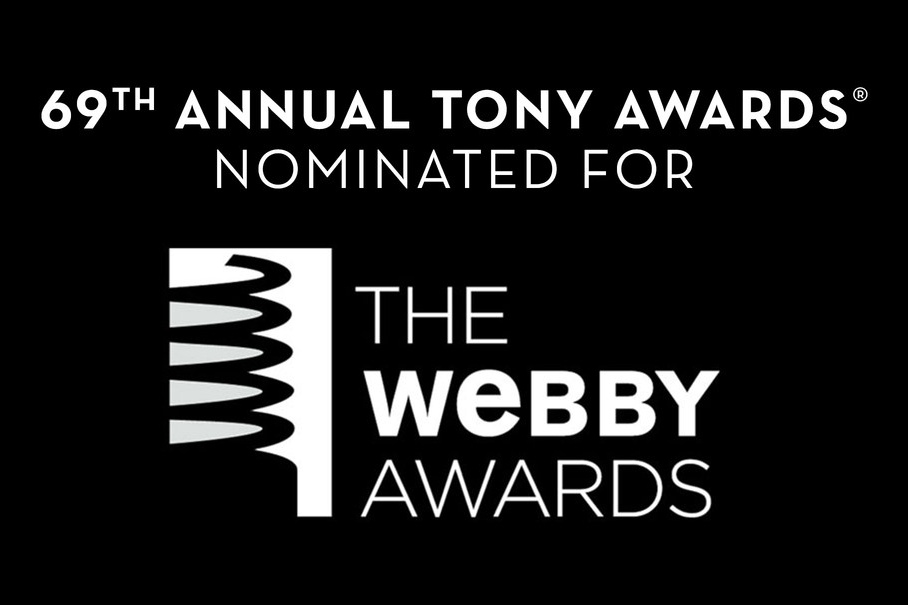 Vote for the Tony Awards in the Webbys People's Voice Awards!
April 7 2016
We've been nominated for a Webby!
The 69th Annual Tony Awards (2015) have been nominated for a Webby Award in the Social Events category for the exemplary integrated digital experience we created surrounding the 2015 Tonys, which were hosted by Kristen Chenoweth and Alan Cumming.
We'd appreciate your help with the Webbys People's Voice Awards - vote for us today!
You can vote for us by visiting https://pv.webbyawards.com/2016/social/social-content-and-marketing/events. Voting is open to the public until April 21, 2016. Winners for the 20th Annual Webby Awards will be announced April 26, 2016.
And thank you!
About the 2015 Tony Awards Experience
At the 2015 Tony Awards, we aimed to celebrate the longevity and heritage of the awards show while staying fresh, relevant and tapping into the millennial audience. This was accomplished through a fully integrated digital experience – from a fully-produced red carpet live stream event to engaging social media coverage.
As a result, the Tony Awards secured the No. 1 spot on Nielsen's Twitter TV ratings and were globally trending all day. The LIVE! From the Red Carpet live stream garnered nearly 1 million views, while the Snapchat Live Story received hundreds of millions of views worldwide.
"Last year was a groundbreaking year for the Tonys in the digital space, and we are extremely proud of the incredible work and vision of our digital team," Heather Hitchens, President of the American Theatre Wing, and Charlotte St. Martin, President of The Broadway League, said in a statement. "Their creativity helps to bring theatre fans across the country a little closer to the action."
The 2016 Tony Awards - June 12 on CBS
The American Theatre Wing's 70th Annual Tony Awards will air on the CBS Television Network on Sunday, June 12, 2016 (8:00-11:00 PM, ET/delayed PT) live from the Beacon Theatre in New York City. The Tony Awards, which honors theatre professionals for distinguished achievement on Broadway, has been broadcast on CBS since 1978. The Tony Awards are presented by The Broadway League and the American Theatre Wing.
The official eligibility cut-off date will be Thursday, April 28, 2016, for all Broadway productions opening in the 2015-2016 season. Productions which meet all other eligibility requirements and open on or before the eligibility date are considered eligible for 2016 Tony Award nominations.
The Nominations for the 2016 Tony Awards will be announced live on Tuesday, May 3, 2016, from the Paramount Hotel in New York City.