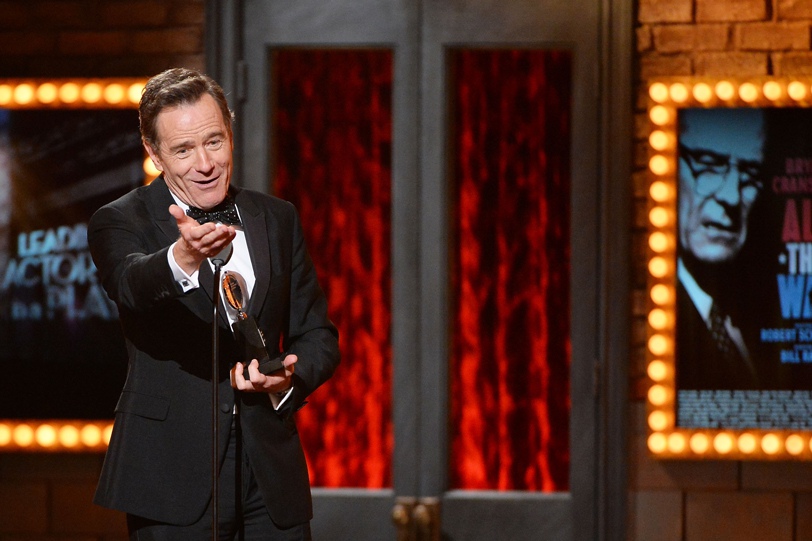 12 Stars Who Won Tony Awards for Their Broadway Debut Performances
April 13 2015
For some talented performers, the first time's a charm. While the vast majority of Tony Award®-winners have at least one previous Broadway credit on their resume (and some have many), a number of Broadway debut performances have enthralled Tony voters over the years. There are too many first-timers to list them all—we're leaving out big names like Jeremy Irons, John Lithgow, Alan Cumming, Harry Belafonte, Andrea Martin, Catherine Zeta-Jones, Mark Rylance, and many more—but here are a few you might know. How many of these performances did you catch?
1. Scarlett Johansson


No stranger to the stage, ScarJo made her Off Broadway debut at age 8. It took more than a decade, but in 2010 she earned her first Broadway credit in a revival of Arthur Miller's A View from the Bridge. She earned a Tony Award too.
---


2. Lea Salonga


This phenomenal Filipina had already won the Olivier Award for her breakout performance as "Kim" in Miss Saigon when she came to the U.S. and took home a 1991 Tony Award in her first Broadway outing.


---


3. Eddie Redmayne
Also in 2010, this talented young British performer won a Tony Award for his work in the John Logan play Red. In 2015, he won an Academy Award for the film The Theory of Everything.


---


4. The Billys – David Álvarez, Trent Kowalik, and Kiril Kulish
This trio of talented teens alternated in the title role of the electric Elton John musical Billy Elliot. They shared the 2009 Tony Award as Best Actor in a Musical. None has returned to Broadway – yet!
---
5. Hugh Jackman


Hugh Jackman performing in a scene from
The Boy from Oz on the 2004 Tony Awards telecast.
His portrayal of fellow Australian Peter Allen in The Boy from Oz in 2004 earned him a Tony. Jackman had already triumphed on stage both Down Under and in London—and he had previously hosted the Tony Awards, in 2003.
---
6. Harvey Fierstein


Harvey Fierstein on the 2012 Tony Awards Red Carpet.
A double whammy! He won two 1983 Tony Awards in his Broadway debut, one for writing Torch Song Trilogy, and the second for starring in the play.
---
7. Al Pacino


Past winnner and 2011 Tony-nominee Al Pacino on the Red Carpet.
The New York native won his first Tony in 1969 for Don Petersen's short-lived play Does a Tiger Wear a Necktie, three years before his breakout Hollywood role as Michael Corleone in The Godfather.
---
8. Leslie Uggams


Leslie Uggams at the 2005 Tony Awards.
Hallelujah, Baby! That was the title of the musical which marked Uggams's Broadway debut, earning her a 1968 Tony Award.
---
9. Ellen Barkin


She had a slew of film credits under her belt before stepping on a Broadway stage for the first time, but in 2011 the Tony Award for Best Featured Actress in a Play went to Barkin for her searing portrayal of an AIDS doctor in Larry Kramer's The Normal Heart.
---
10. Matthew Broderick


Matthew Broderick at the 2000 Tony Awards.
He has appeared in 10 Broadway shows to date, including three plays by Neil Simon. The first was Simon's Brighton Beach Memoirs, which earned Broderick a 1983 Tony Award.
---
11. Bryan Cranston


The Breaking Bad star went All the Way as LBJ in Robert Schenkkan's 2014 drama about President Lyndon B. Johnson and the struggle for Civil Rights.
---
12. Liza Minnelli


Presenter and Past Tony Award-winner Liza Minnelli at the dress rehearsal for the 2008 Tony Awards.
Back in 1965, a 19-year-old Liza Minnelli had a short theatre resume and no film credits. She had performed with her mother, Judy Garland, but was not yet a superstar in her own right. Then she became the toast of Broadway as the title character in Kander & Ebb's musical Flora, The Red Menace. She took home a Tony…and the rest is history.
Will any of the performers making their Broadway debuts in the 2014-2015 season win a Tony Award? Find out by watching the 2015 Tony Award Nominations live at www.TonyAwards.com on April 28, and then tune in to CBS on June 7 for the American Theatre Wing's 69th annual Tony Awards, presented by The Broadway League and the American Theatre Wing.