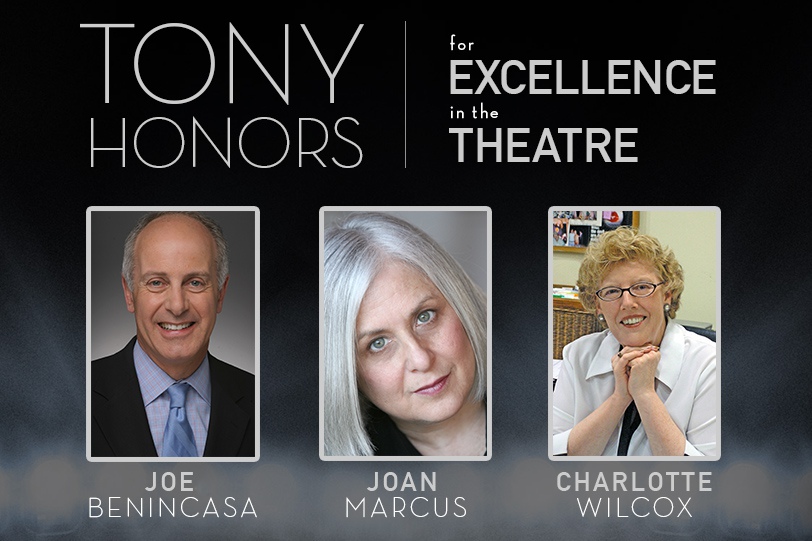 2014 Tony Honors for Excellence in the Theatre Announced
April 8 2014
The Tony Awards Administration Committee has announced this year's recipients of 2014 Tony Honors for Excellence in the Theatre. These honors will be presented at the Tony Honors Cocktail Party, a private cocktail reception, on Monday, June 2 at the Paramount Hotel's Diamond Horseshoe in advance of the June 8 Tony Awards cerremony.
The Tony Honors for Excellence in the Theatre were established in 1990 and are awarded annually to institutions, individuals and/or organizations that have demonstrated extraordinary achievement in theatre, but are not eligible in any of the established Tony Award categories. This year's Tony Honors will be presented to three individuals. Click on each name to lear more about them.
Joseph P. Benincasa: Joe is the President & CEO of The Actors Fund, the national human services organization that helps everyone in entertainment and the performing arts; he joined The Fund in 1989. Mr. Benincasa oversees innovative programs including comprehensive social services, health care services, employment and training, and affordable, supportive and senior housing. The Actors Fund's headquarters are in New York City with regional offices in Los Angeles and Chicago, a nursing home in Englewood, NJ, and supportive housing residences in Manhattan, NY, West Hollywood, CA, and Brooklyn, NY. He is also President of the Actors Fund Housing Development Corporation which is building affordable, supportive and senior care residences for artists in major urban centers. He serves on the boards of directors of several organizations, including Bio-Reference Laboratories, Broadway Cares/Equity Fights AIDS, Career Transition for Dancers, Learning Ally, the Human Services Council, National Executive Service Corps, Times Square Alliance, the YMCA of New York City and the Somerset Patriots, a minor league baseball team.
Joan Marcus: Over the last 25 years, Joan has photographed almost 300 Broadway shows and hundreds of productions Off Broadway, at regional theatres and on national tours across the country. In the years preceding, she served as the house photographer for the Kennedy Center, and also worked with other DC-based theatre companies. Her work is theatrical, constantly alive and imaginative. Through Joan's eyes photographs of plays and musicals have wallpapered the city and country; from newspapers and magazines to television and the internet, from train platforms to Shubert Alley, from Playbill covers to Times Square billboards.
Charlotte Wilcox: Charlotte has been a leader in the industry for over 40 years. As a General Manager and as the founder of The Charlotte Wilcox Company, she has given her guidance and leadership to over 100 shows. Her credits, too many to list in their entirety, include serving as General Manager for productions of: Fiddler on the Roof, My Fair Lady, Cyrano, all three Broadway productions of Grease, Jesus Christ Superstar, The Full Monty, Taboo, Dirty Rotten Scoundrels The Drowsy Chaperone, Come Fly Away, West Side Story, Catch Me If You Can and this season Beautiful – The Carole King Musical. Charlotte also serves on the Board of Governors, the Executive Committee and was a founding member of the Labor Committee for The Broadway League.
"We are thrilled to announce that Joe Benincasa, Joan Marcus and Charlotte Wilcox are this year's recipients for the Tony Honors for Excellence in the Theatre. This year's honorees personify the heartbeat of the Broadway community. Their passion, commitment and tireless dedication to the theatre shines through in their work – and we could not be more pleased to present them each with this year's Tony Honors," said Heather Hitchens, Executive Director of the American Theatre Wing and Charlotte St. Martin, Executive Director of The Broadway League, in a statement.
The Tony Award Nominations will be announced on Tuesday, April 29 via a live webcast here at www.TonyAwards.com. The 2014 Tony Awards, hosted by Hugh Jackman, will be broadcast in a live three-hour ceremony from Radio City Music Hall, on the CBS television network on Sunday, June 8. The American Theatre Wing's Tony Awards are presented by The Broadway League and the American Theatre Wing.