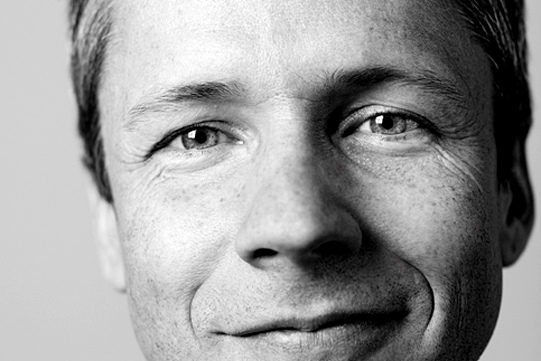 A 2015 Special Tony Award for John Cameron Mitchell
April 27 2015
On April 27 the Tony Awards® Administration Committee announced that Hedwig and the Angry Inch librettist (and original star) John Cameron Mitchell will receive a Special Tony Award in 2015.
Mitchell is a Broadway performer, writer, director, and filmmaker. He penned the book for Hedwig and the Angry Inch. Mitchell created the title role in its Off Broadway debut, and just completed a stint starring in the musical's current Broadway revival.
"John's return to Hedwig and the Angry Inch is one for the history books," according to Heather Hitchens, President of the American Theatre Wing, and Charlotte St. Martin, Executive Director of The Broadway League. "He not only co-wrote the musical with Stephen Trask and created the role – before directing and starring in the film – but returned to Broadway to star as Hedwig this season after a series of rave performances by Neil Patrick Harris, Andrew Rannells and Michael C. Hall. This is a remarkable undertaking, and we are honored to recognize his outstanding success with this honor."
About John Cameron Mitchell
John Cameron Mitchell's New York stage appearances included Broadway's Big River, and the original casts of The Secret Garden (Drama Desk nomination) and Six Degrees of Separation. Off Broadway: Larry Kramer's The Destiny of Me (Obie Award and Drama Desk nom.) and Michael John LaChiusa's Hello Again (Drama Desk nom.). He adapted and directed Tennessee Williams' Kingdom of Earth starring Cynthia Nixon and Peter Sarsgaard and starred in and wrote the book for the 1998 Off Broadway production of Hedwig and the Angry Inch (directed by Peter Askin) for which he won an Obie Award along with co-creator/songwriter Stephen Trask. The film adaptation (2001) won him Best Director at Sundance and a Golden Globe nomination for Best Actor. He directed Shortbus (2006) and Rabbit Hole (2011) adapted from David Lindsay-Abaire's Pulitzer Prize-winning play and starring Nicole Kidman in an Oscar-nominated performance. He recently appeared in HBO's Girls and is preparing to direct a film adaptation of Neil Gaiman's punk-era story How to Talk to Girls at Parties starring Elle Fanning.
The 2015 Tony Awards
Bruce Willis and Mary-Louise Parker will announce the 2015 Tony Award Nominations LIVE on Tuesday, April 28th from the Paramount Hotel's Diamond Horseshoe in New York City. The Tony Award Nominations can be viewed LIVE on "CBS This Morning" and in their entirety here at www.TonyAwards.com.
The 2015 Tony Awards will be broadcast live from Radio City Music Hall in New York City, on Sunday, June 7th, 2015 (8:00 – 11:00 p.m. ET/PT time delay) on the CBS Television Network, live from the Radio City Music Hall in New York City. The Tony Awards, which honors theatre professionals for distinguished achievement on Broadway, has been broadcast on CBS since 1978. The Tony Awards are presented by The Broadway League and the American Theatre Wing.
A limited number of tickets to the 2015 Tony Awards will be made available to the general public. Tickets will be available at www.TonyAwards.com starting on April 28, 2015.