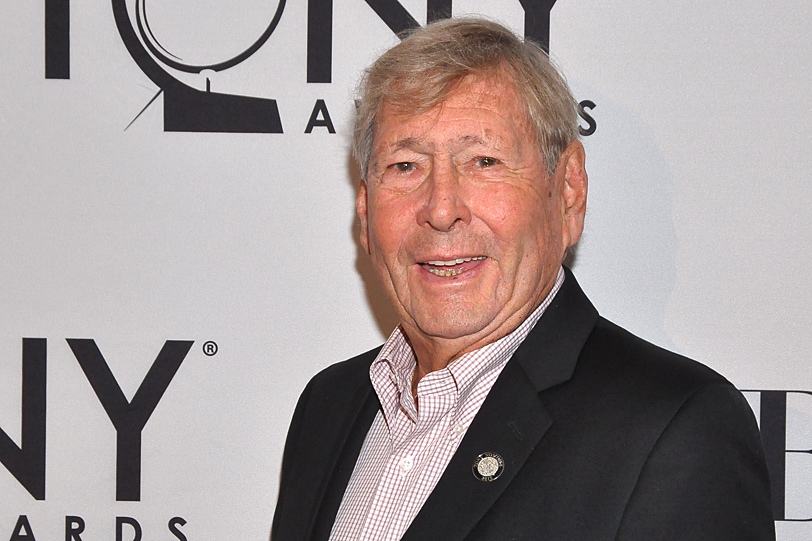 Artie Siccardi: Building Broadway Dreams
May 14 2012
"We don't have a problem, we have a situation which we are going to resolve." That's how Artie Siccardi approaches his responsibilities as a production supervisor on Broadway. To date, Siccardi has overseen more than 200 Broadway productions, including Chicago, Dreamgirls, Jerome Robbins' Broadway, My One and Only and Sunset Boulevard. For his exemplary work in that job over more than three decades, he will receive a Tony Honor for Excellence in the Theatre on the day before the American Theatre Wing's Tony Awards® ceremony in June.
Though his career stretches back to when he first worked on Broadway as a carpenter in the early 1960s, Siccardi has in more recent years been credited on Broadway as a Production Supervisor or Technical Supervisor, and occasionally Production Manager. "There's no difference really," he says. "It all depends on what they want to call me." The production supervisor is the person who ensures that the scenery and costumes are built according to creative team's designs and within the budget and time frame determined by the producers.
The Man in Charge
Siccardi's first task is to select, after a bidding process, the "shops" that will build the set elements and the costumes, and then he will bring together the designers and the shop managers for a production meeting. Once work commences it's his responsibility to keep tabs on its progress. "Nothing leaves the shop until the designer is happy with the painting, or whatever," Siccardi explains. "I also have them set everything up in the shop -- the stage deck with the automation -- because everything has to work in the shop before you take it to the theatre. I have the director, the stage manager and the designer go over everything there, otherwise it will cost you a lot more money to do it in the theatre."
After the show has opened, Siccardi manages his own crew, whose job it is to keep all the elements in good working order. "We normally have a work call every Wednesday, or every other Wednesday, just for maintenance of the electric, sound, carpentry, props. Once a year, you have a full-day main maintenance call to go over all of the automation, the cables and the electric grid."
One of his biggest challenges was setting up the 1982 Broadway premiere of Andrew Lloyd Webber's Cats, which demanded a complete makeover of the Winter Garden Theatre. "I remember the designer, John Napier, walking around and saying, 'The theatre looks gorgeous, now paint it all black,'" says Siccardi. "We really gutted the theatre, took the ceiling out and built a crane out on top of the roof." After the production's 18-year run (the second longest in Broadway history), Siccardi was on call again to restore the theatre to its former splendor for its current tenant, Mamma Mia!
A Career Filled with Great Performances
Siccardi started in the theatre business as an assistant carpenter on the original road tour of Gypsy. The tour began shortly after the legendary musical starring Ethel Merman ended its 702-performance run on Broadway in 1961. While Siccardi was still in college he had occasionally helped out his uncle, a carpenter at New York's City Center, and it was through that contact that he was recommended to producer David Merrick for the job on Gypsy. "I said, I don't know anything about this stuff, and I was scared. Everyone shook when you said, 'Ethel Merman.'" recalls Siccardi. "But she was absolutely wonderful, and when I heard that overture -- which I still think is the greatest -- I said, 'If this is what Broadway is like, this is wonderful.'"
Siccardi soon acquired hands-on knowledge about the logistics of building a show, working with the best in business over a series of productions. One assignment he recalls with pride is the 1965 tour of Hello, Dolly!, directed by Gower Champion and starring Mary Martin. "We were in Japan and President Johnson said that he would like the show to play for the troops in Vietnam. I had built a whole show in Japan, same as I had in New York, but in Vietnam we had to play in airplane hangars. We had three 40-foot slabs put in and built the stage on that; we climbed the rafters to hang lights and curtains. One place was so small that Mary said, 'I can't get out,' and I said, 'Crawl out on your knees when you get down to the stairs and make believe you are playing Peter Pan!'"
Siccardi's next career break came about with the help of Tony-winning choreographer Bob Avian, who was then dancing in the chorus of the Hello, Dolly! tour. Avian introduced him to Michael Bennett, who was putting together a tech crew for the 1971 George Furth play Twigs, starring Sada Thompson. From that point on, Siccardi worked on all of Bennett's shows, including the long-running 1976 Best Musical Tony-winner, A Chorus Line.
"I enjoy the theatre more than anything," says Siccardi. "The shop and supervising it and getting it set up, that's part of the job. I tell the fellows you have nothing to give but service." Reflecting on his Tony Honor, he adds, "This thing has brought back a lot of memories for me -- most of them all good. It's quite an honor to think of the great ones that I had the opportunity to work with: Jerome Robbins, Michael Bennett, Gower Champion, Jo Mielziner, Oliver Smith, Mike Nichols -- wow!"
* * *
Neil Patrick Harris hosts the 2012 Tony Awards, presented by The Broadway League and the American Theatre Wing. The Tony telecast will be aired on CBS on June 10 at 8/7c.