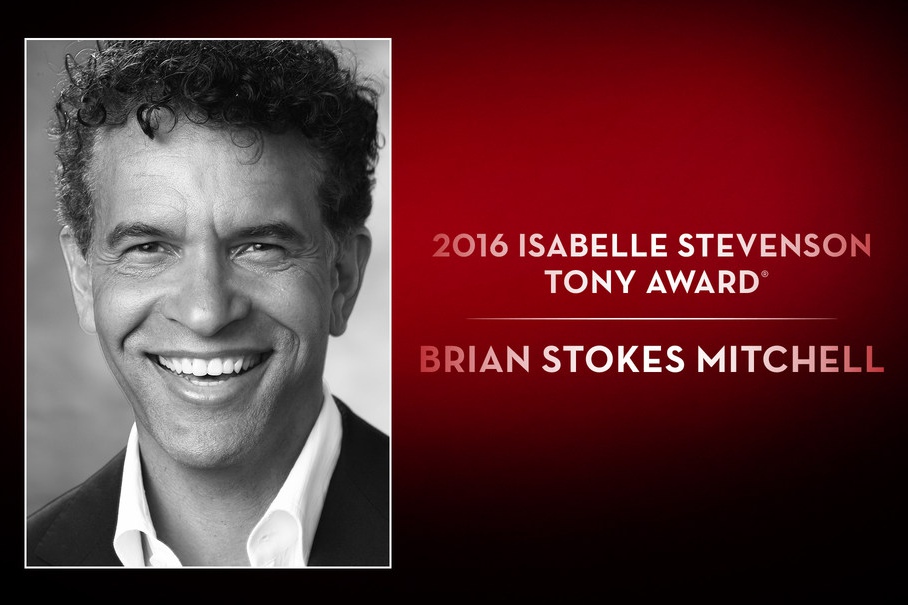 Brian Stokes Mitchell to Receive 2016 Isabelle Stevenson Tony Award
May 3 2016
The Tony Awards® Administration Committee has announced today that Brian Stokes Mitchell is this year's recipient of the Isabelle Stevenson Tony Award. Mitchell is a past Tony Award winner and Chairman of The Actors Fund. He is currently starring on Broadway in Shuffle Along, Or The Making of the Musical Sensation of 1921 and All That Followed
The Isabelle Stevenson Award is presented annually to a member of the theatre community who has made a substantial contribution of volunteered time and effort on behalf of one or more humanitarian, social service or charitable organizations. Mitchell will be presented the Award for his commitment to supporting members of the entertainment community in crisis or transition through his work with The Actors Fund.
"Stokes is a true treasure to the Broadway community, extending his time and talents beyond the stage to give back to the theatre community for more than 20 years through his work with The Actors Fund. We are thrilled to celebrate his accomplishments with this honor," Charlotte St. Martin, President of The Broadway League, and Heather Hitchens, President of the American Theatre Wing, said.
Mitchell became a trustee of The Actors Fund in 1998 and was elected Chairman of the Board of the organization in 2004. During his tenure as Chairman, Mitchell has headlined fundraisers that have raised in excess of $10 million for the organization. In addition, he played a large role in the creation in 2010 of The Actors Fund Housing Development Corporation, which provides affordable, supportive and senior housing for the performing arts community that improves lives, creates jobs, fosters economic development and revitalizes communities. Through his work with expanding all facets of The Actors Fund, the organization now serves more than 14,000 people a year through social services and emergency financial assistance, health care and insurance counseling, career development and housing.
Mitchell won a Tony Award in 2000 as Best Leading Actor in a Musical for performance in Kiss Me, Kate.
The American Theatre Wing's 70th Annual Tony Awards, hosted by Tony Award winner James Corden, will air on the CBS Television Network on Sunday, June 12, 2016 (8:00-11:00 PM, ET/delayed PT) live from the Beacon Theatre in New York City. The Tony Awards, which honors theatre professionals for distinguished achievement on Broadway, has been broadcast on CBS since 1978. The Tony Awards are presented by The Broadway League and the American Theatre Wing.