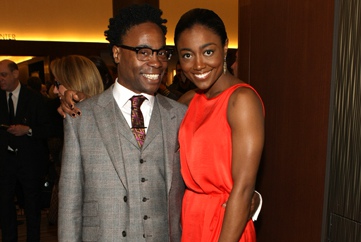 Carnegie Mellon Becomes the First, Exclusive Higher Education Partner of the Tony Awards
April 26 2014
CMU School of Drama Marks 100 Years, Debuts National Tony Honor for Theatre Educators
Note: this is an archival article. For current information on the Excellence in Theatre Education Award, visit TonyAwards.com/EducationAward.
Carnegie Mellon University (CMU) has been named by the American Theatre Wing's Tony Awards® as its first, exclusive higher education partner. As part of the collaboration, the two organizations will jointly create and launch the first, national recognition program to honor kindergarten through high-school (K-12) theatre educators.
CMU's School of Drama is the oldest drama degree-granting program in the United States and celebrates its Centennial in 2014. In the past century, CMU has produced hundreds of Tony nominees and 31 Tony winners—eight winners in 2013 alone. Recognized as an international leader in the arts and technology, CMU's drama school consistently ranks as one of the world's best.
Last year, CMU alumni Billy Porter (A'91) and Patina Miller (A'06) both won for performances in musicals for Kinky Boot and Pippin, respectively. Judith Light (A'70) picked up a second-consecutive featured actress Tony for The Assembled Parties, after winning the prior year for Other Desert Cities. Producers Martin Platt (A'71) and Jamie deRoy (A'67) won for Vanya and Sonia and Masha and Spike, while Ann Roth (A'60) earned a Tony for The Nance as costume designer. And Lucky Guy lighting designers Jules Fisher (A'60) and Peggy Eisenhauer (A'83) each picked up 2013 Tonys for their work.
CMU on the 2014 Tony Telecast
The 2014 Tony Awards, hosted by Hugh Jackman, will be broadcast live from Radio City Music Hall in New York City on Sunday, June 8, on CBS. The 67th annual Tony Awards are presented by The Broadway League and the American Theatre Wing.
The broadcast will feature an on-air tribute to CMU's century of producing top theatre talent, from actors and musicians, producers to technicians, backstage to front office and everywhere in between.
"We are pleased to recognize Carnegie Mellon University's historic and unrivaled contributions to theatre education," say Heather Hitchens, executive director of the American Theatre Wing and Charlotte St. Martin, executive director of The Broadway League. "What better occasion to celebrate 100 years of talent-making than on Broadway's biggest night!"
The Tony Awards and CMU Will Recognize Theatre Educators in 2015
To underscore the critical importance of education in the dramatic arts, the Tony Awards and CMU will co-create and launch the first national recognition program to honor kindergarten through high-school (K-12) theatre educators.
"Throughout its history, Carnegie Mellon has been home to many talented and inspirational faculty, so we understand the important role teachers play in transforming lives," said CMU President Subra Suresh in a statement. "Behind every Tony winner is a teacher who inspired and nurtured a young talent to grow, to pursue big dreams and accomplish great things. We are excited to bring those heroes into the Tony spotlight."
Nominations will be open to the public and accepted starting in September 2014 at TonyAwards.com and cmu.edu. A panel of judges comprised of the American Theatre Wing, The Broadway League, CMU and other leaders from the theatre industry will select the finalists and winner based on criteria set forth by the committee. Demonstrating a positive impact on the lives of students, advancing the theatre profession and a commitment to excellence will be among the qualifications.
The winning teacher will receive the "Tony Honor for Excellence in Theatre Education presented by Carnegie Mellon University" on-stage at the 2015 Tony Awards. The trip to New York City will be included, plus a financial contribution will be made to the theatre arts program at the winner's school.
Check back this summer for more details.
About Carnegie Mellon University
Carnegie Mellon (www.cmu.edu) is a private, internationally ranked research university with programs in areas ranging from science, technology and business, to public policy, the humanities and the arts. More than 12,000 students in the university's seven schools and colleges benefit from a small student-to-faculty ratio and an education characterized by its focus on creating and implementing solutions for real problems, interdisciplinary collaboration and innovation. A global university, Carnegie Mellon has campuses in Pittsburgh, Pa., California's Silicon Valley and Qatar, and programs in Africa, Asia, Australia, Europe and Mexico.
About Carnegie Mellon University School of Drama: Carnegie Mellon University's School of Drama is the oldest degree-granting drama school in the United States, celebrating its centennial in 2014. The school offers conservatory training that champions rigorous education, scholarship, research and innovative cross-disciplinary interaction; it is recognized as an international leader in the arts and technology. During the past 100 years, the School of Drama has trained innovators and leaders in the theatre, film and television industries. Carnegie Mellon alumni have received 99 Emmy Awards, 31 Tony Awards and six Academy Awards, also known as the Oscars.
* * *

The 2014 Tony Award Nominations will be announced on Tuesday, April 29, at the Paramount Hotel's Diamond Horseshoe in New York City. The Tony Nominations event can be viewed live at 8:30 a.m. Eastern Time at tonyawards.com.
The Tony Awards are presented by The Broadway league and the American Theatre Wing.
For more information about the Tony Honor for Excellence in Theatre Education, visit tonyawards.com or cmu.edu.