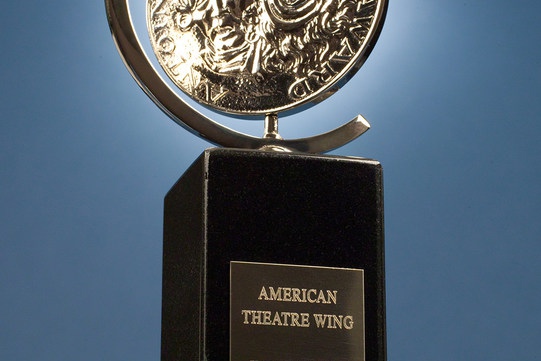 Date Set for 2014 Tony Awards: June 8 on CBS, Live from Radio City Music Hall
October 7 2013
Broadway: Where Stars Align
The biggest names in theatre, film, TV, and music come together for one show-stopping night.
Mark your calendars for Broadway's Night of Nights! Key dates for the American Theatre Wing's 68th Annual Tony Awards® have now been set.
The Telecast – Sunday, June 8
Past Tony Award-winner Hugh Jackman will host the 2014 Tony Awards ceremony, which will air on the CBS television network, live on Sunday, June 8 at 8:00 p.m. ET/7:00 p.m. CT (delayed 8:00 p.m. PT). The event will take place at New York City's fabled Radio City Music Hall.
The Tony Awards, which honors theatre professionals for distinguished achievement on Broadway, has been broadcast on CBS every year since 1978. The show-stopping awards ceremony will include musical performances and celebrity presenters. The Tonys are presented by The Broadway League and the American Theatre Wing.
Tickets to the Tonys
As in past years, a limited number of tickets to the 2014 Tony Awards will be available for purchase by members of the general public. Tickets will go on sale here at TonyAwards.com on Wednesday, April 30.
Nominations Announcement and Other Dates to Know
The official Tony eligibility cut-off date will be Thursday, April 24, 2014, for all Broadway productions opening in the 2013-2014 season. Productions that meet all other eligibility requirements and open on or before this date will be considered eligible for 2014 Tony Award nominations.
The Nominations for the 2014 Tony Awards will be announced on Tuesday, April 29 from New York City, live here at TonyAwards.com.
The Eligible Shows
Throughout the season we'll be covering each of the shows that may be eligible for 2014 Tony nominations in our Spotlight Series. We'll add more shows as they begin previewing, and include video, photos, trivia, show descriptions, links for tickets, cast albums, scripts, and more. Check back often.
* * *
We'll be posting more information soon as part of our extensive coverage of 2014 Tony Awards events, so come back frequently - or like us on Facebook and follow @TheTonyAwards on Twitter for the latest updates.
#TonyAwards