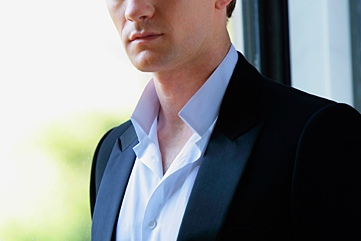 Emmy Award Winner Neil Patrick Harris Returns to Host the 67th Annual Tony Awards® - Sunday, June 9 on CBS
May 8 2013
Emmy Award-winning actor Neil Patrick Harris, star of the CBS comedy "How I Met Your Mother," returns to host The 67th Annual Tony Awards® live from Radio City Music Hall in New York City, Sunday, June 9 (8:00-11:00 PM, live ET/delayed PT) on the CBS Television Network. This will be Harris' fourth time hosting the Tony Awards. Previously, Harris served as the host of the 63rd, 65th and 66th Annual Tony Awards. As he did in 2012, Harris will also act as a producer, along with executive producers Ricky Kirshner and Glenn Weiss of White Cherry Entertainment.
"I'm very excited to be back hosting the Tony Awards at the legendary Radio City Music Hall. It'll be more impressive than ever - if my math is correct, it will be 267 times bigger than last year," said Neil Patrick Harris. "Oh, wait. No, that can't... hold on... carry the one... I'm awful at math. But rest assured, the show will rock!"
"Neil is a multi-talented performer whose showmanship, wit and energy command the stage of live events," said Nina Tassler, President of CBS Entertainment. "He is a master of ceremony, who truly loves celebrating the performing arts with the highest level of entertainment, and it's quite obvious to the audience he's having a lot of fun along the way."
"We are thrilled that Neil will be joining us, once again, at Radio City Music Hall to host 'The 67th Annual Tony Awards,' said Charlotte St. Martin, Executive Director of The Broadway League and Heather Hitchens, Executive Director of the American Theatre Wing. "Neil's creativity and passion for Broadway shines through when he is on the stage and off – and we cannot wait to see what surprises Neil will have up his sleeves!
About Neil Patrick Harris
Equally successful on stage and screen, Neil Patrick Harris currently stars as Barney Stinson in the hit CBS television series "How I Met Your Mother," a role which has garnered him multiple Emmy and Golden Globe Award nominations. Harris is a three-time Emmy Award winner for his guest-starring role on "Glee" and as host of the 2009 and 2011 Tony Awards. Prior to hosting the Tonys and Primetime Emmy Awards, Harris served as host of the 2008 Primetime Creative Arts Emmy Awards.
From his film debut opposite Whoopi Goldberg in Clara's Heart and his seminal role as the beloved titular character in "Doogie Howser, M.D.," to his roles in the Harold & Kumar and The Smurfs films, Harris has enjoyed a successful career spanning more than 25 years in the industry.
In addition to his numerous film and television credits, Harris has also enjoyed success in the theater. His many theatrical credits include the dual role of The Balladeer/Lee Harvey Oswald in the Tony Award-winning production of Assassins, as well as acclaimed performances in the Broadway productions of Cabaret and Proof. He made his musical directorial debut with a production of Rent at the Hollywood Bowl.
The Antoinette Perry "Tony" Awards
This year marks the 67th year of the Tony Awards. The first awards ceremony was held on April 6, 1947 at the Waldorf Astoria's Grand Ballroom. The ceremonies are presented by The Broadway League and the American Theatre Wing, which founded the Tonys in 1947.
The June 2011 broadcast of "The 65th Annual Tony Awards" was honored this past year with four Primetime Emmy® Awards: Outstanding Special Class Program, Outstanding Art Direction for Variety or Nonfiction Programming, Outstanding Original Music and Lyrics and Outstanding Directing for a Variety Special.
Ricky Kirshner and Glenn Weiss of White Cherry Entertainment will return as executive producers. Weiss will serve as director for the 14th consecutive year.