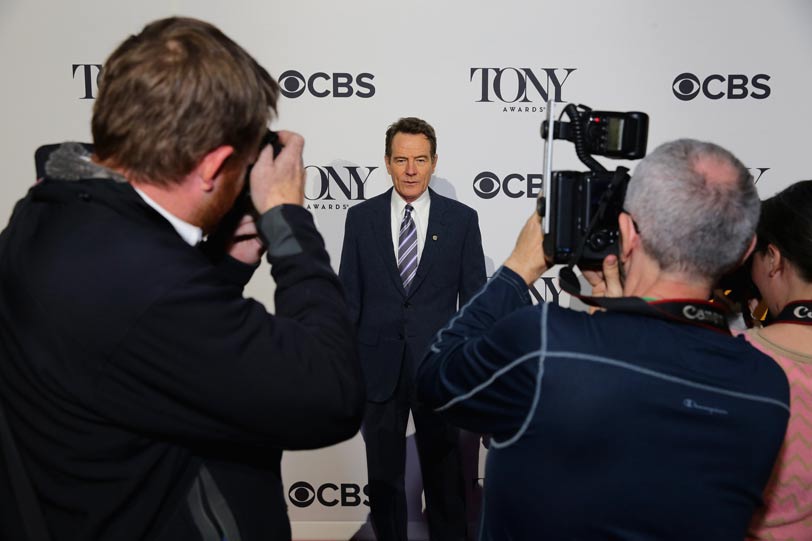 Hail to the Chiefs: U.S. Presidents at the Tony Awards
March 24 2016
The Tony Awards takes a look back on some of the actors who were Tony-nominated for playing commanders-in-chief, real or fictional, on the Great White Way.
1. Bryan Cranston as President Lyndon B. Johnson (2014)


"Breaking Bad" star Bryan Cranston made his Broadway debut in Robert Schenkkan's play All the Way. He played Lyndon Baines Johnson - the 36th U.S. President who pulled out all the stops to push the Civil Rights Act of 1964 through Congress. Cranston earned a Tony Award for Best Performance by an Actor in a Leading Role in a Play in 2014. The production also won Best Play at the Tony Awards that year. Cranston will reprise the presidential role for HBO's upcoming film adaptation of the play, shown on May 21, 2016.
---
2. Frank Langella as President Richard M. Nixon (2007)


Frank Langella won the 2007 Tony Award for Best Actor in a Play for his portrayal of the 37th United States president in Peter Morgan's Frost/Nixon. He played a discraced, post-Watergate Richard Nixon trying to salvage his reputation in a series of interviews with British journalist David Frost. Langella also received an Oscar nomination for the 2008 film version of Frost/Nixon.
---
3. Will Ferrell as President George W. Bush (2009)


Will Ferrell was nominated as a producer of You're Welcome America: A Final Night with George W. Bush in the Best Special Theatrical Event category at the 2009 Tony Awards. Ferrell wrote and made his Broadway debut in the show, starring as George W. Bush. The show's first day of previews, January 20th, 2009, coincided with the Inauguration of Barack Obama. Ferrell also notably impersonated President George W. Bush on the NBC late-night show "Saturday Night Live."
---
4. Sam Waterston as President Abraham Lincoln (1994)


Sam Waterston led the 50-person cast of a revival of Abe Lincoln in Illinois at Lincoln Center's Vivian Beaumont Theater in 1994. His portrayal of the 16th American president, Abraham Lincoln, earned him a Tony nomination for Best Actor in a Play. Robert E. Sherwood's play follows Lincoln from his days as a young man through his final speech in Illinois before leaving for Washington.
---
5. James Earl Jones as President Arthur "Artie" Hockstader (2012)


James Earl Jones was nominated for Best Performance by an Actor in a Leading Role in a Play in 2012 for his presidential role in a revival of Gore Vidal's The Best Man. His tough and mischievous embodiment of a fictional former chief executive marked his 18th show on Broadway. The play is set at a brokered political convention, during which two rival candidates vie for their party's presidential nomination.
---
6. Ralph Bellamy as Franklin Delano Roosevelt (1958)


Ralph Bellamy's interpretation of a young FDR, who later became our 32nd President, garnered him a Tony Award as Best Actor in a Play in 1958. Dore Schary's Sunrise at Campobello told the story of Roosevelt's battle with polio. Bellamy reprised his role for the 1960 film version of the play.
---
7. Daveed Diggs as President Thomas Jefferson (2016)


Daveed Diggs made his Broadway debut in Hamilton. He received a 2016 Tony Award for Best Performance by an Actor in a Featured Role in a Musical for creating the role of Founding Father and third U.S. President Thomas Jefferson. He also played the Marquis de Lafayette, a French aristocrat who played a pivotal role in the American Revolution. Hamilton holds the record as the most-nominated production in Tony history, with 16 nominations.
---
8. Christopher Jackson as President George Washington (2016)


Christopher Jackson was also Tony-nominated for Hamilton, in the same category as Daveed Diggs. Jackson played our very first President, George Washington, but lost out in the Tony battle to Diggs.
---
Special Mentions - Two First Ladies
9. Virginia Vestoff as First Lady Abigail Adams (1969)


Virginia Vestoff was nominated at the 1969 Tony Awards for Best Featured Actress in a Musical for her performance in 1776, set in the year of U.S. independence from Great Britain. She played Abigail Adams, the accomplished, erudite woman who was the wife of one future U.S. President (John Adams) and mother of another (John Quincy Adams). Vestoff reprised the role for the 1972 film version of the musical.
---
10. Nanette Fabray as First Lady Nell Henderson, Wife of President Stephen Decatur Henderson (1963)


More than a decade after her first Broadway performance, Nanette Fabray was nominated for Best Actress in a Musical in 1963 when she returned to portray fictional First Lady Nell Henderson in Irving Berlin's final musical, Mr. President. Her songs included "The First Lady" and "They Love Me."
---
The 2017 Tony Awards
The 71st Annual Tony Awards will be broadcast on Sunday, June 11, 2017, live from Radio City Music Hall on the CBS Television Network from 8-11 p.m. ET (delayed PT). Or stream the Tony Awards live across platforms with the CBS All Access subscription service (Live stream is available in select markets. Visit CBS.com/allaccess for details.).
For more information on the Tony Awards, "like" Facebook.com/TheTonyAwards and follow @TheTonyAwards on Instagram and Twitter.
The American Theatre Wing's Tony Awards are presented by The Broadway League and the Amercian Theatre Wing.