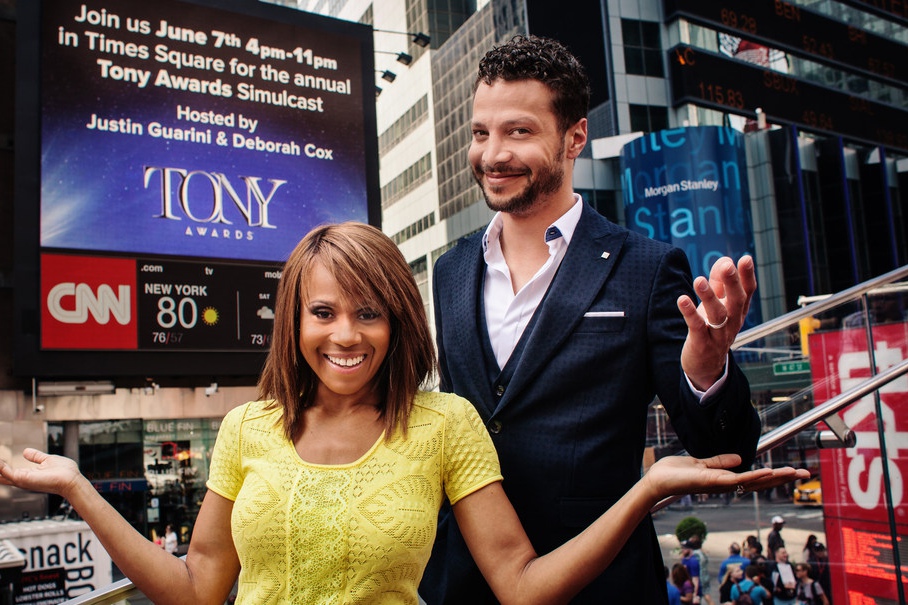 Justin Guarini and Deborah Cox to Co-Host Free 2015 Tony Awards Simulcast in Times Square
May 5 2015
Clear Channel Spectacolor is partnering with the Tony Awards® and the Times Square Alliance to bring Broadway fans the seventh annual simulcast of the Tony Awards in Times Square. The free outdoor event will be hosted by Justin Guarini (Wicked, Women on the Verge of a Nervous Breakdown, American Idiot, Romeo and Juliet) and Deborah Cox (Aida, Jekyll & Hyde) on Sunday, June 7 from 4:00 - 11:00 p.m.
The annual event gives attendees a chance to be part of the full Tony Awards experience, including red carpet arrivals and the full awards show presentation via Clear Channel's SpectacolorHD screens in the heart of the Broadway community—New York City's Times Square.
Guest Appearances, the Red Carpet, the Tony Awards, and More
The Times Square simulcast will feature special guest appearances and performances. In addition, portions of the Tony Awards Red Carpet and the entirety of the Tony Awards show—including the Creative Arts Awards which can otherwise only be seen live inside Radio City Music Hall—will stream live, giving theatre lovers a front row seat to all of the award show action
The simulcast will take place rain or shine, with full audio and seating for 2,000 guests starting at 4:00 pm on Duffy Square and the Broadway Plaza between 46th and 48th St, the heart of Times Square. The event is free and open to the public.
"We are so excited to have Justin return this year alongside the supremely talented Deborah Cox to host this incredible annual event," said Harry Coghlan, President of Clear Channel Outdoor New York. "Clear Channel Spectacolor is thrilled to again serve as a producing partner for such a unique celebration of the Broadway community in the heart of the Great White Way."
"This year's Times Square celebration is going to be star-studded, packed with great performances, and bigger than ever before," noted Guarini. "I couldn't be more honored to have the incredible Deborah Cox as my partner-in-crime as we take the stage to help honor the wonderful shows that make Broadway and New York City one of the premier destinations in the world."
Cox stated, "I'm very excited and thrilled to co-host and perform with Justin Guarini at this year's Tony Awards in Times Square. Performing on Broadway has been an exhilarating experience for me. It is an honor to be a part of the celebration of Broadway's best!"
"We are thrilled to once again partner with Clear Channel Spectacolor, the Times Square Alliance and the city of New York to bring the Tony Awards broadcast to the heart of the Theater District – Times Square," said Charlotte St Martin, Executive Director of The Broadway League and Heather Hitchens, President of the American Theatre Wing. "The simulcast is the ideal opportunity for local and visiting Broadway fans to enjoy the Tony Awards on the big screen and cheer alongside fellow theatre enthusiasts. We look forward to another successful year!"
The Tony Awards, which be hosted by Kristin Chenoweth and Alan Cumming, will be broadcast live from Radio City Music Hall on CBS, on Sunday, June 7th, 8:00 – 11:00 PM (ET/PT time delay). The Tony Awards are presented by the American Theatre Wing and The Broadway League. Clear Channel Spectacolor is co-producer of the 2015 simulcast and an official media partner of the 69thAnnual Tony Awards.
About the Simulcast Hosts
Grammy®-nominated, multi-platinum selling singer and entertainer Deborah Cox has been a force on the R&B and pop charts for over 20 years, with six top 20 Billboard R&B singles and 12 #1 hits on Billboard's Hot Dance Club Play chart. Her new single, More Than I Knew was released in early 2015. Cox was discovered by Clive Davis and signed to Arista Records where she released her gold-selling debut album, Deborah Cox, in 1995. Her follow up album, One Wish, produced top-selling hits, including Nobody's Supposed to Be Here, We Can't Be Friends, and It's Over Now. Through live performances and recordings, she has collaborated with celebrated artists and producers ranging from Andrea Bocelli, David Foster and Cyndi Lauper to Sarah McLachlan, Whitney Houston, Kenny "Babyface " Edmonds, and Jimmy Jam and Terry Lewis.
In addition to a rewarding recording career, Cox has performed as part of the Tony Award-winning Broadway productions of Aida and Jekyll & Hyde. She gave a critically-acclaimed performance singing as the voice of Whitney Houston for Lifetime's recent biopic of the singer, and has recorded extensively for film soundtracks including Akeelah and the Bee, Hotel Rwanda, Kingdom Come, and Money Talks, among others. In April 2016, Cox will star in the Asolo Repertory Theatre's Broadway-bound musical Josephine. Her forthcoming album, Work of Art will be released in 2015.
Justin Guarini became a household name as the powerful singer who was the season one runner up on American Idol, however, the range of his of his many talents—from hosting and acting to becoming one of the new fresh faces of Broadway—have continued to shine in the years since. Since his starring role on Idol, and performing for sold out crowds both across the country and internationally as part of the Idols Live! tour, Guarini completed two studio albums including Justin Guarini (RCA Records) and Stranger Things Have Happened (Gregorian Music,), as well as cast recordings for Women on the Verge of a Nervous Breakdown and Romeo and Juliet. His big screen debut, From Justin to Kelly, led to additional film and television roles, including on Run of The House, Disney's Wizards of Waverly Place, the CMT original series Gone Country, and the theatrical release of Romeo and Juliet. Guarini served as a resident host for the TV Guide Network and for various web series, including a weekly video blog for Fancast—Comcast's premiere online entertainment site.
Most recently, Guarini has emerged as one of the "new" faces of Broadway, having recently completed his fourth role as Fiyero in Wicked. He made his Broadway debut in Women on the Verge of a Nervous Breakdown, and went on to play the role of Will in the Tony Award-winning Broadway production of American Idiot, followed by a turn as Paris in the modern day version of Romeo and Juliet. His regional theatre credits include starring roles in Paint Your Wagon, Rent, Chicago, and Joseph and the Technicolor Dreamcoat among others.
A Philadelphia native, Guarini began formal music training with the Atlanta Boys Choir and studied vocal performance, dance, theatrical arts, and film and television acting at The University of The Arts in Philadelphia.