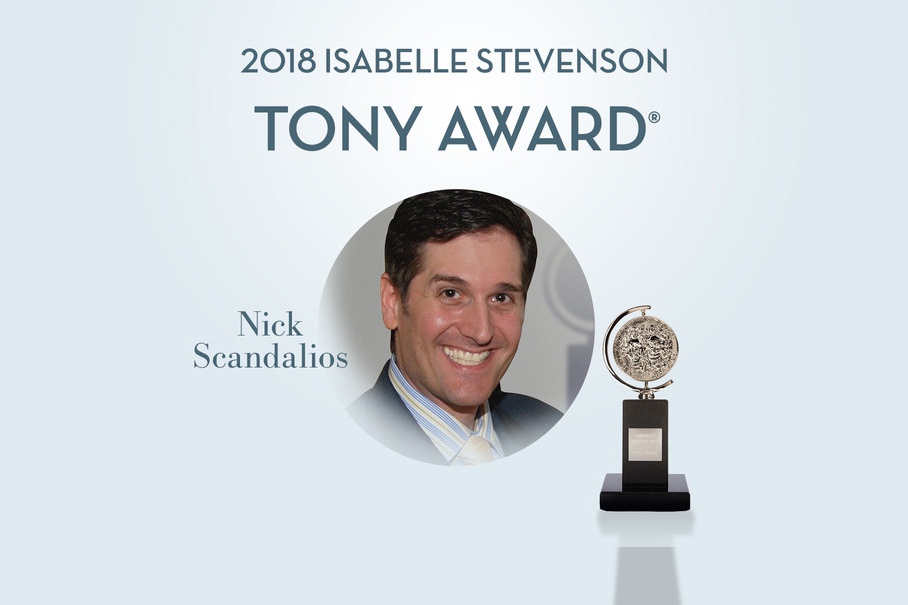 Nick Scandalios to Receive 2018 Isabelle Stevenson Tony Award
April 24 2018
On April 24, the Tony Awards® Administration Committee announced today that Nick Scandalios, Executive Vice President of the Nederlander Organization, will be the 2018 recipient of the Isabelle Stevenson Tony Award.
The Isabelle Stevenson Award is presented annually to a member of the theatre community who has made a substantial contribution of volunteered time and effort on behalf of one or more humanitarian, social service or charitable organizations. Scandalios will be presented with the Award for his tireless advocacy and dedication to LGBTQ families nationwide.
Nick Scandalios is the Executive Vice President of the Nederlander Organization, one of the largest owners of legitimate theatres in the world, as well as one of the largest theatrical producing organizations in North America. Scandalios joined Family Equality Council's Board of Directors in May 2008, but even prior to his board service Scandalios dedicated hours of his time volunteering to help further the rights and increase the safety of LGBTQ parents and their children. Scandalios was elected the Board Chair in 2014, speaking across the country and serving as a public spokesperson for LGBTQ families. Scandalios was instrumental in the Family Equality Council's work, contributing to the movement's success in winning marriage equality through the Windsor and Obergefell Supreme Court rulings.
Both on stage and off, the Family Equality Council helps protect the rights of LGBTQ parents and their children through advocacy, outreach and community. The Family Equality Council connects, supports, and represents the three million parents who are lesbian, gay, bisexual, transgender and queer in this country and their six million children. Their mission is to change attitudes and policies to ensure that all families are respected, loved and celebrated – including families with parents who are LGBTQ. The Family Equality Council is a community of parents and children, grandparents and grandchildren that reaches across this country.
"Whatever Nick does, he does with passion, pride and purpose. Whether it's his work on stage or off, he gives 100% of himself," said Charlotte St. Martin, President of The Broadway League and Heather Hitchens, President & CEO of the American Theatre Wing, in a statement. "In a time that is so critical for the LGBTQ community, his work and his commitment to the Family Equality Council has never been more important or inspiring. We could not be more proud to present Nick with this year's Isabelle Stevenson Award."
Scandalios is also a past Chairman of the Board of Governors of the Broadway League. He also serves on the Board of Trustees for Broadway Cares/Equity Fights AIDS. This year marks his 31st anniversary with the Nederlander Organization. Nederlander owns or operates theatres in New York, NY; Los Angeles, CA; Chicago, IL; San Diego, CA; San Jose, CA; Tucson, AZ; North Charleston, SC; Durham, NC; Oklahoma City, OK and London, England. The Nederlander Organization is currently represented on Broadway by the following productions: Wicked, Disney's The Lion King, Hamilton, SpongeBob SquarePants, Waitress, Escape to Margaritaville, Angels in America, My Fair Lady and Summer: The Donna Summer Musical.
Past Award Recipients
The Isabelle Stevenson Tony Award was inaugurated in 2009. This non-competitive honor is named for a longtime Chair of the American Theatre Wing. The past recipients are:
2009: Phyllis Newman
2010: David Hyde Pierce
2011: Eve Ensler
2012: Bernadette Peters
2013: Larry Kramer
2014: Rosie O'Donnell
2015: Stephen Schwartz
2016: Brian Stokes Mitchell
2017: Baayork Lee
The 2018 Tony Awards
The American Theatre Wing's 72nd Annual Tony Awards, hosted by Sara Bareilles and Josh Groban, will air on the CBS Television Network on Sunday, June 10, 2018 (8:00-11:00 PM, ET/delayed PT) live from Radio City Music Hall in New York City. The Tony Awards, which honors theatre professionals for distinguished achievement on Broadway, has been broadcast on CBS since 1978. The Tony Awards are presented by The Broadway League and the American Theatre Wing.
The official eligibility cut-off date will be Thursday, April 26, 2018, for all Broadway productions opening in the 2017-2018 season. Productions which meet all other eligibility requirements and open on or before the eligibility date are considered eligible for 2018 Tony Award nominations.
The Nominations for the 2018 Tony Awards will be announced live, by Leslie Odom, Jr. and Katharine McPhee on Tuesday, May 1, 2018, from the New York City Public Library for the Performing Arts at Lincoln Center. You can watch the announcement live at TonyAwards.com, as well as on our Facebook page.
Follow the Tony Awards on Twitter and Instagram for real-time updates on the nominees as they are announced (@TheTonyAwards). The entire announcement will also be available on TonyAwards.com after the event.