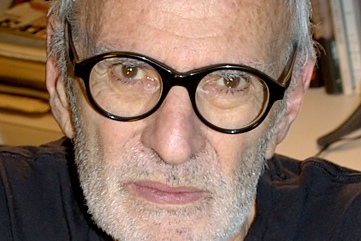 Playwright and Activist Larry Kramer to Receive 2013 Isabelle Stevenson Award
April 29 2013
The Tony Awards® Administration Committee has announced that playwright Larry Kramer will receive this year's Isabelle Stevenson Award. This honor will be presented at the 2013 Tony Awards on Sunday, June 9.
Mr. Kramer is the author of The Normal Heart, the 2011 Tony Award-winning Best Revival of a Play. Mr. Kramer is being recognized for his work as the co-founder of Gay Men's Health Crisis, the world's first HIV/AIDS service organization. He is also the founder of ACT UP, the international network of activists responsible for the development/release of most HIV/AIDS treatments.
The Isabelle Stevenson Award recognizes an individual from the theatre community who has made a substantial contribution of volunteered time and effort on behalf of one or more humanitarian, social service or charitable organizations, regardless of whether such organizations relate to the theatre. Past recipients of the Isabelle Stevenson Award include Phyllis Newman, David Hyde Pierce, Eve Ensler and Bernadette Peters.
The American Theatre Wing's 2013 Tony Awards will be broadcast live from Radio City Music Hall on the CBS Television Network on Sunday, June 9 at 8/7c (delayed PT).
The 2013 Tony Awards are presented by The Broadway League and the American Theatre Wing.
About Larry Kramer
The recent Broadway premiere of Mr. Kramer's landmark play The Normal Heart won the 2011 Tony® Award for Best Revival of a Play. HBO's film adaptation of The Normal Heart, directed by Ryan Murphy and starring Mark Ruffalo and Julia Roberts, begins shooting in New York City in June. His other plays include Sissies' Scrapbook, The Normal Heart, Just Say No, The Destiny of Me, A Minor Dark Age. He wrote and produced the film Women in Love, for which he was nominated for an Academy Award. His non-fiction works include Reports from the holocaust: the making of an AIDS activist and The Tragedy of Today's Gays. His works of fiction include Faggots, and his forthcoming 3000-page novel The American People (Farrar Straus and Giroux). Kramer is be the subject of an upcoming HBO documentary, which will coincide with the premiere of the film adaptation of The Normal Heart in May, 2014. He is the recipient of the Award in Literature from the American Academy of Arts and Letters, and was the first openly gay person to receive a Public Service Award from Common Cause. He received his BA from Yale (1957). Kramer and his lover, architect/designer David Webster, live in New York and Connecticut.