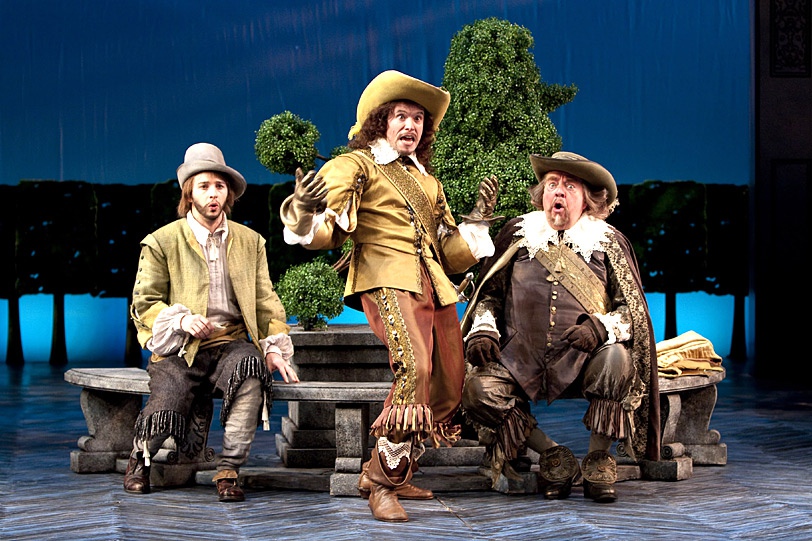 2012 Regional Theatre Spotlight: 25 Years of Shakespeare and More
May 31 2012
This season the Shakespeare Theatre Company celebrated its 25th anniversary – and received word that it would be honored by the American Theatre Wing's Tony Awards® with the 2012 Regional Theatre Award.
In the fall of 1986, Tony-nominated director Michael Kahn moved to Washington, D.C., to head a classical theatre company that was just emerging from the remnants of the Folger Theatre. Over the following quarter century, the Shakespeare Theatre Company has focused on works with profound themes, complex characters and heightened language written by Shakespeare, his contemporaries and those playwrights he influenced. STC's artistic mission is to bring to vibrant life groundbreaking, thought-provoking and eminently accessible classic theatre in a uniquely American style.
Artistic Director Michael Kahn spoke with TonyAwards.com this spring.
Shakespeare Theatre, of course, doesn't just do Shakespeare. What kind of works make it into your repertory?
Plays that use language as their primary vehicle of expression. I was extremely happy to do Camino Real [by Tennessee Williams in 2000]. Or, in the case of Old Times, which was the Pinter play that I directed last year, it uses the absence of language to say what it has to say. For me, it's something about larger-than-life characters, big ideas, and a very specific use of language. There are other contemporary authors that I'm looking forward to doing. I believe that those plays will outlive their time.
There are a few Shakespeare plays missing from the company's roster. Is there a reason for that or has their time just not come yet?
Well, we haven't done Henry VIII, partly because it's not very good and, secondly, it's not really written by Shakespeare. But it will come around if I get a wonderful Henry and a wonderful Katherine. I'm trying to think what else we haven't done. I don't think Two Noble Kinsman has much Shakespeare in it either. Part of it is wonderful and part of it isn't. If I had a really fabulous idea about why we should do it, I would definitely consider it.
What made you decide to join the company in 1986?
Well, the old Folger Theatre was going to close. Amherst College, which ran it, just decided it didn't want to be in the theatre business anymore. So I was asked if I wanted to be artistic director [of a reincorporated company]. I thought I'd come down for two or three years to see if there could be a theatre that was worth keeping. And 25 years later—what can I say? (laughs) I'm very lucky to be allowed to do what I like to do.
Any long-term goals you're working on for the company?
I would hope that we might be a theatre that has its plays go out on these screens around the country, like we're doing with the National Theatre's live broadcasts [from London in cinemas]. Touring a company now is so expensive. And yet I would like people to celebrate American Shakespeare. I'm hoping we can develop the technology and work out the issues with the unions to make that possible.
What are some fantasy projects?
I'm looking forward to giving [2012 Tony Award-nominee] David Ives more French plays to translate. He did a wonderful job for us [on Corneille's The Liar and Regnard's The Heir Apparent] and there is another play that he's working on now. We've commissioned poet Robert Pinsky to adapt Schiller's Wallenstein. I keep looking for those things that I was either scared of when I was young or that were too difficult for a theatre to produce. I would love to do Faust, but maybe nobody would love to see it. And the Oresteia is something I really want to do. We're about to commission a very well-known poet, who I hope will translate and condense it into a one-evening adaptation.
Congratulations on the Tony Award, meanwhile.
Thanks. This was a lovely year to get it, not only because of our 25th anniversary. It was also a wonderful year for regional theatre, with all of the Best Play nominees—and some of the Best Musicals and Best Revivals—having come from the not-for-profit theatres. Audiences don't realize where Peter and the Starcatcher and The Lyons were done originally, or how long it took Venus in Fur to move uptown. Artists go into those projects not expecting them to go to Broadway. They're just creating art where they can. The not-for-profit sector has been so battered to death by government cuts, but it still goes on.
* * *
The Regional Theatre Award is bestowed each year by the Tony Awards on the recommendation of the American Theatre Critics Association.
The 2012 Tony Awards, presented by The Broadway League and the American Theatre Wing, will be telecast on Sunday, June 10 on CBS.
* * *