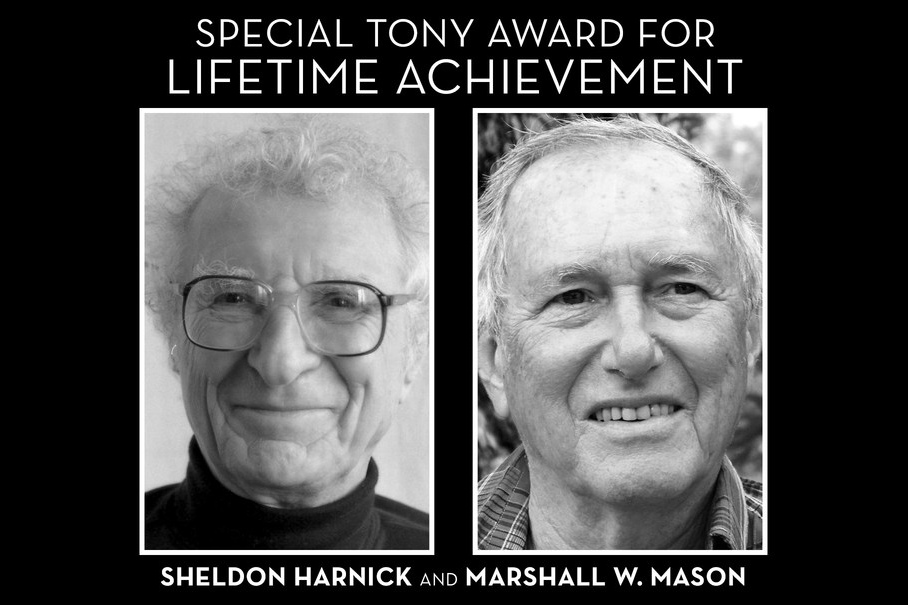 Sheldon Harnick and Marshall W. Mason to Receive 2016 Special Tony Awards for Lifetime Achievement in the Theatre
April 18 2016
The Tony Awards Administration Committee announced on April 19 that two-time Tony Award-winning lyricist Sheldon Harnick and multiple Tony-nominated director Marshall W. Mason will be this year's recipients of the Special Tony Award for Lifetime Achievement in the Theatre.
Mr. Harnick is currently represented on Broadway with new productions of two of his most popular musicals, Fiddler on the Roof and She Loves Me. Mr. Mason directed 12 Broadway plays by Lanford Wilson and others that earned him five Tony nominations as Best Director, and produced many notable new plays as Founding Artistic Director of Circle Repertory Company.
The Special Tony Award for Lifetime Achievement in the Theatre will be presented at the 70th Annual Tony Awards on Sunday, June 12th at the Beacon Theatre. The Tony Awards are presented by The Broadway League and the American Theatre Wing.
"It is our pleasure to present two very deserving legends in the Broadway community with Lifetime Achievement Awards for their extraordinary careers and countless achievements," said Heather Hitchens, President of the American Theatre Wing, and Charlotte St. Martin, President of The Broadway League, in a statement. "Mr. Harnick has crafted some of the most recognizable tunes in the theatrical repertoire that have spanned generations. Mr. Mason has gifted his creative prowess to dozens of Broadway's biggest hits. We are thrilled to play a part in their history with this honor."
About Sheldon Harnick
Sheldon Harnick's first song for a Broadway show was the hilarious "Boston Beguine" for New Faces of 1952. He then contributed songs to the revues Two's Company (starring Bette Davis), John Murray Anderson's 'Almanac' and The Littlest Revue. His collaboration with composer Jerry Bock produced such Broadway classics as Fiorello (1959): Pulitzer Prize, Tony Award; Tenderloin (1960); She Loves Me (1963): Grammy Award; Fiddler on the Roof (1964) Tony Award; The Apple Tree (1966) and The Rothschilds (1970). Other collaborations include A Christmas Carol with Michel Legrand (1981); Rex with Richard Rodgers (1976); A Wonderful Life with Joe Raposo (1986) and The Phantom Tollbooth with Arnold Black (1995). For Dragons and Malpractice Makes Perfect, he provided book, lyrics and music. He has written songs for the films The Heartbreak Kid (1972) and Blame It on Rio (1984) both with music by Cy Coleman; and Aaron's Magic Village (1995) with Michel Legrand. In the 1970s, he entered into the world of opera. With composer Jack Beeson, he has provided the librettos for Captain Jinks of the Horse Marines (1975), Dr. Heidegger's Fountain of Youth (1978) and Cyrano (1994). Other operas include Love in Two Countries with Thomas Shepard (1991) and Coyote Tales with Henry Mollicone (1998). Harnick has won a Pulitzer Prize, two Tony Awards, two Grammy Awards, two New York Drama Critics Circle Awards, three gold records and a platinum record. He and his wife Margery have a published book entitled The Outdoor Museum (Not Your Usual Images of New York), featuring her photographs and his poetry. This spring saw the release of Sheldon Harnick: Hidden Treasures. This two-CD set includes songs written for 17 of his shows and includes more than 50 songs from rare demos. It features performances by Harnick and composer Jerry Bock, Audra McDonald, Brian d'Arcy James, Hugh Martin, Margery Gray Harnick, Charlotte Rae and more.
Sheldon Harnick's complete Broadway credits from IBDB.com
About Marshall W. Mason
Marshall W. Mason was the Founding Artistic Director of the Circle Repertory Company, acclaimed by the New York Times in 1975 as "the chief provider of new American plays." His 44-year collaboration with Pulitzer Prize-winning playwright Lanford Wilson has been certified by Playbill as the longest collaboration between a writer and director in the history of the American theatre. In 1999, he was awarded a special millennium "Mr. Abbott" Award as one of the most innovative and influential directors of the twentieth century, and last year he was elected to the Theater Hall of Fame. On Broadway, Mason directed 12 plays that earned him five Tony nominations for Best Director: Knock Knock by Jules Feiffer, Talley's Folly (New York Drama Critics' Circle Award for Best Play and the Pulitzer Prize), Fifth of July and Angels Fall by Lanford Wilson, and As Is by William M. Hoffman (Drama Desk Award for Best Play). Four productions received Tony Awards with 24 nominations. Mason has been honored with the Theater World Award for his discovery and nourishment of new talent, including William Hurt, Kathy Bates, Christopher Reeve, Jeff Daniels and many others. He received the Margo Jones Award for his cultivation of new writers, and both the Inge Festival and the Last Frontier Awards for lifetime achievement. He has won the Irwin Piscator Award, three Drama League Awards and four AriZoni Awards. For two years, he was chief drama critic for New Times in Phoenix and received the Arizona Press Club Award. He is the author of Creating Life on Stage: A Director's Approach to Working with Actors (Heinemann Press, 2006) and The Transcendent Years of Circle Rep.
Marshall W. Mason's complete Broadway credits from IBDB.com
The 2016 Tony Awards
The American Theatre Wing's 70th Annual Tony Awards, hosted by Tony Award winner James Corden, will air on the CBS Television Network on Sunday, June 12, 2016 (8:00-11:00 PM, ET/delayed PT) live from the Beacon Theatre in New York City. The Tony Awards, which honors theatre professionals for distinguished achievement on Broadway, has been broadcast on CBS since 1978. The Tony Awards are presented by The Broadway League and the American Theatre Wing.
The official eligibility cut-off date will be Thursday, April 28, 2016, for all Broadway productions opening in the 2015-2016 season. Productions which meet all other eligibility requirements and open on or before the eligibility date are considered eligible for 2016 Tony Award nominations.
The Nominations for the 2016 Tony Awards will be announced live on Tuesday, May 3, 2016, from that Paramount Hotel in New York City.