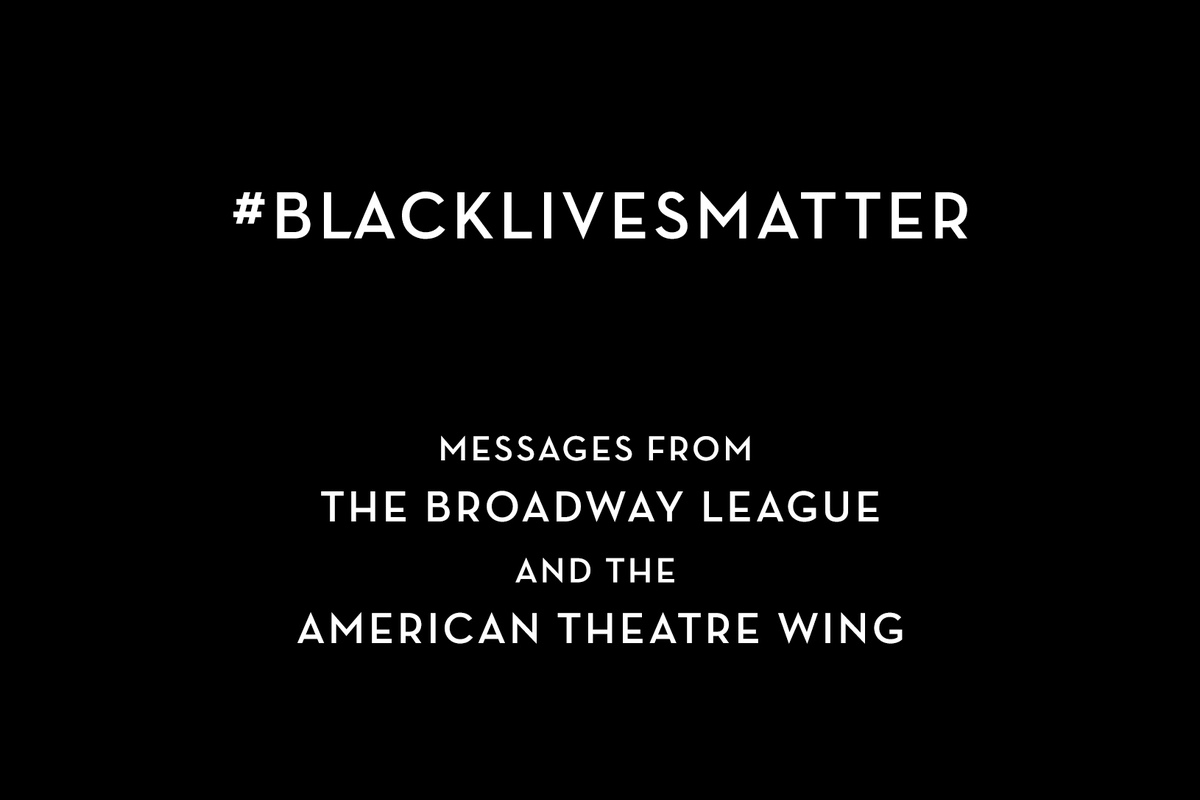 Statements from The Broadway League and the American Theatre Wing #BlackLivesMatter
June 1 2020
The American Theatre Wing's Tony Awards® are presented by The Broadway League and the American Theatre Wing. Both organizations issued statements in response to the killing of George Floyd and the epidemic of racial violence and injustice in America.
From The Broadway League
The Broadway League has a longstanding commitment to equality and establishing a truly inclusive theatre community. This commitment has involved ambitious efforts around workforce and audience development, as well as raising awareness within the industry by creating opportunities for meaningful dialogue and programing. And, in the wake of a global reckoning on race, we commit to encouraging all of our members and partners, whether producers, general managers, presenters, unions, guilds or vendors, to confront racism, build inclusive cultures and create career opportunities which advance BIPOC artists and professionals in our industry, whether backstage, onstage or in the executive suite.
Following this call to action, in June we convened our Board to establish a number of key objectives—all of which were approved unanimously—and a strategy to achieve them. Among these goals were changes to our bylaws which immediately led to the appointment of two additional Black board members. Furthermore, the new bylaws will provide for even greater diversity going forward, and we are firmly committed to appointing additional individuals of color to the Board in 2021. We have also placed a greater emphasis on unconscious bias and anti-racism training, and are commissioning an audit of the entire industry, and will be hiring an EDI Director to oversee all equality, diversity and inclusion policies.
Our industry must be a leader to eradicate systemic racism within society, and that starts with making real change so that Broadway reflects the diversity of the entire artistic community. Achieving this crucial objective will require a collective effort—one that is rooted in a spirit of partnership and collaboration. Together, we can begin the hard work ahead to create a brighter future for our industry and the world around us.
Updated as of November 2020
From The American Theatre Wing
The most recent examples of racial violence and injustice in America against the black community that culminated in the senseless and unjust killing of George Floyd—are devastating and have added to a persistent and truly horrific narrative about who America is as a nation. We, as the leaders of the national theatre community, have a critical role here, to not only to denounce racism of any kind within our communities, but to also support, produce, and promote work that reflects and celebrates our beautifully diverse society, creates new narratives, deepens empathy and understanding, and changes hearts and minds. It is our duty to make sure the black lives in our community are not marginalized or endangered in any way, that they are not silenced or demeaned. The American Theatre Wing stands with communities of color today, tomorrow, and always. Black stories matter. Black opportunities matter. We must all speak out, do better, and drive out hate and prejudice from wherever it hides because all lives will only truly matter when #blacklivesmatter. #changethenarrative