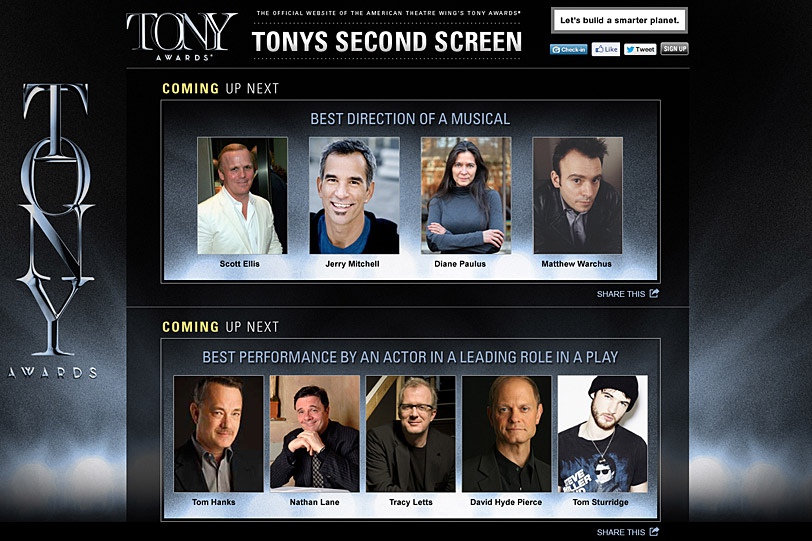 The 2013 Tonys Second Screen Experience!
June 4 2013
Why watch the American Theatre Wing's Tony Awards® on just one screen, when you can see it on two – and get a completely new behind-the-scenes perspective?
Introducing the Tonys Second Screen experience, the first-ever ultimate interactive, online companion to the Tony Awards telecast on CBS. On Tony night, you'll be able to visit TonyAwards.com and enjoy a continuous scroll of content that is synchronized with the awards show, unfolding live on your computer screen, mobile phone, or tablet.
To watch the Tony Awards Second Screen, Visit TonyAwards.com from 7:00 – 11:00 p.m. ET on Sunday, June 9.
The Second Screen will launch from this page.
The Tonys Second Screen experience includes:
Exclusive backstage photos
Video from behind the scenes
Updates on the winners
Creative Arts Awards
Trivia
Acceptance speeches
Polls
Red Carpet glamor
Featured Tweets from fans
"30 Things You Love About the Tonys" submitted by fans via Where magazine
Fun Facts about the nominees and winners
And much more.
The Tonys Second Screen works on any device – PC, iPad, smartphone, tablet, etc.
West Coast fans can keep an eye on the Tonys Second Screen to find out about what they can expect to see on CBS when the show starts at 8:00 p.m. PT.
For a complete overview of Tony night events, click here.
The 67th Annual Tony Awards are presented by The Broadway League and the American Theatre Wing.