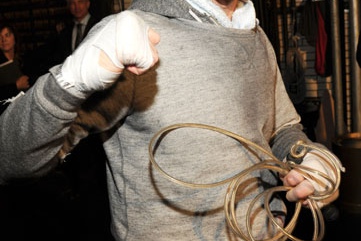 The Sportin' Life at the Tony Awards: 10 Performers Who Were Tony-Nominated for Portraying a Sports Figure
March 7 2016
While you're scoping out the brackets during March Madness this year, take a break from college basketball fever to look back on some of the talented actors who scored a slam dunk playing a professional athlete - or, to quote Grease, an "athletic supporter" - on the Great White Way, leading them to Tony Awards® glory. Tune in to this year's Tony Awards on Sunday, June 12th at 8/7c on CBS to see which of this year's nominated Final Four (or Five or more) will vault from nominee to winner in each performance award category.
1. John Lithgow as English Rugby Forward "Kenny" Kendal in The Changing Room (1973)


John Lithgow scored the Tony Award for Best Featured Actor in a Play in 1973 for his performance as the English rugby player Kenny Kendal in David Storey's The Changing Room. He was also nominated in 1985 for a Tony for another athletic performance - that of the boxer Harlan "Mountain" McClintock in Rod Serling's Requiem for a Heavyweight.
---
2. Andy Karl as Rocky Balboa in Rocky (2014)


Audiences were knocked out by Andy Karl's portrayal of the infamous "Italian Stallion" in 2014. His performance in Rocky earned him a Tony nomination for Best Performance by an Actor in a Leading Role in a Musical - his first nomination.
---
3. James Earl Jones as Boxer Jack Jefferson in The Great White Hope (1969)


James Earl Jones's two-fisted portrayal of the boxing heavyweight champion of the 1910s who also fought against discrimination yielded him a win at the 1969 Tony Awards as Best Actor in a Play. Jones later reprised the role for the 1970 film version of Howard Sackler's The Great White Hope. He is pictured here with Jane Alexander, who won the Tony Award for her performance as Eleanor Bachman in Sackler's play.
---
4. Ray Bolger as Football Coach Professor Bodorski in All American (1962)


Having traded his beloved Wizard of Oz scarecrow getup for a football uniform, Ray Bolger earned a Tony nomination for Best Actor in a Musical in 1962. He played the Slavic Professor Bodorski, who comes to America and takes over the American football team at his university by applying his engineering expertise to coaching strategy in All American.
---
5. Jarrod Emick as Baseball Player Joe Hardy in Damn Yankees (1994)
A home run for Jarrod Emick came in 1994 when he won the Tony Award for Best Featured Actor in a Musical for his portrayal of fictional Washington Senators slugger Joe Hardy ("Shoeless Joe from Hannibal, Mo.") in a revival of the musical Damn Yankees. Stephen Douglass was nominated for a Tony for the same role in the original Broadway production of this baseball-themed show in 1956.
---
6. Judith Light as Marie Lombardi in Lombardi (2011)
Eric Simonson's 2011 play Lombardi put its eponymous main character, Green Bay Packers coach Vince Lombardi, right on the 50-year-line as he attempts to lead the team to the NFL championship in 1965. Judith Light played his wife, Marie, earning a nomination for Best Performance by an Actress in a Featured Role in a Play.
---
7. Angela Lansbury as Tennis Player Leona Mullen in Deuce (2007)
Serving up a phenomenal performance earned Angela Lansbury a 2007 Tony nomination for Terrence McNally's two-hander Deuce. She played Leona Mullen - a tennis player in her 70s who reunites with her doubles partner (played by Marian Seldes) to be honored at the U.S. Open.
---
8. Sammy Davis, Jr. as Boxer Joe Wellington in Golden Boy (1965)
A musical about prizefighting led Sammy Davis, Jr. to his 1965 Tony nomination for Best Actor in a Musical in Golden Boy. The musical followed Harlem boxer Joe Wellington, who turned to boxing as a means of escape to fame and fortune. The show is based on the play of the same name by Clifford Odets (see below).
---
9. Danny Burstein as Boxing Coach Tokio in Golden Boy (2013)
Danny Burstein's performance as the boxing coach, Tokio, earned him a Tony nomination for Best Performance by an Actor in a Featured Role in a Play for the 2013 revival of Clifford Odets' Golden Boy. Tony Shalhoub was also nominated in the same category that year for playing Mr. Bonaparte, who objects to his son's boxing career. The play was turned into a Broadway musical starring Sammy Davis, Jr. (see above).
---
10. Daniel Sunjata as Baseball Star Darren Lemming in Take Me Out (2003)
Richard Greenberg's play Take Me Out hit it out of the park with two of its actors receiving Tony nods in 2003. Daniel Sunjata's performance as the Derek Jeter-esque baseball star Darren Lemming earned him a nomination for Best Featured Actor in a Play. Denis O'Hare scored a Tony win in that same category playing Lemming's accountant.
What other Broadway actor-athletes can you name? Put your answers in the comments below.
---
The 70th Annual Tony Awards
This year's Tony nominations will be announced on May 3, live on TonyAwards.com.
James Corden hosts the 2016 Tony Awards, live from the Beacon Theatre on CBS, Sunday, June 12 at 8/7c (delayed PT).
The American Theatre Wing's Tony Awards are presented by The Broadway League and the Amercian Theatre Wing.