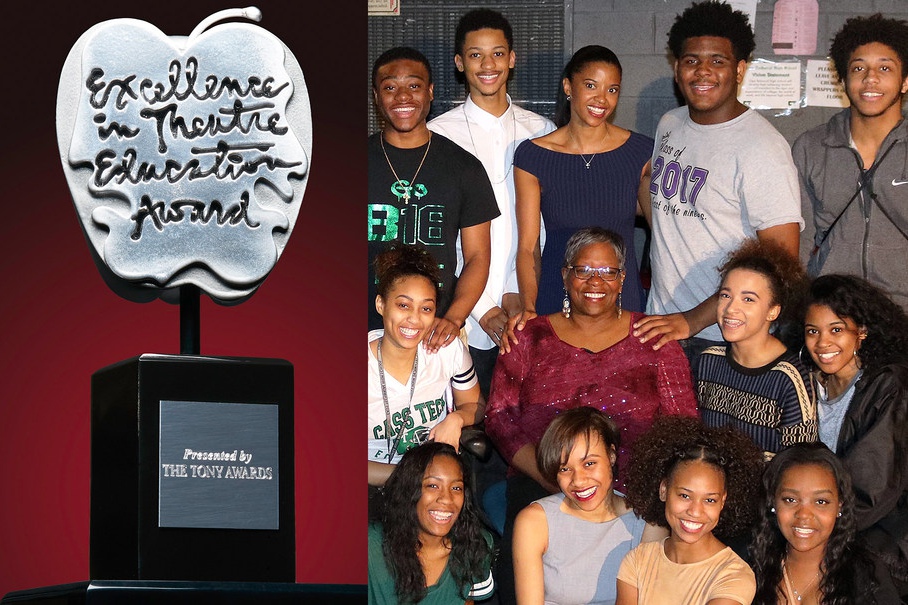 The Tony Awards and Carnegie Mellon University Announce Winner of the 2016 Theatre Education Award
May 31 2016
Congratulations to Marilyn McCormick, drama teacher at Cass Technical High School in Detroit, Michigan!
The Tony Awards has announced that this extraordinary educator is the winner of the second Excellence in Theatre Education Award, presented by Carnegie Mellon University (CMU).
>>Click here for the complete list of finalists and honorable mentions for the 2016 Excellence in Theatre Education Award.
McCormick and the Cass Tech students were informed of her selection by a surprise visit to McCormick's classroom by Renée Elise Goldsberry, a 2016 Tony Award nominee for Best Performance by an Actress in a Featured Role in a Musical for her starring role in Broadway's Hamilton. Goldsberry is a CMU alum and served on this year's judge's panel. The visit was captured on CBS This Morning.
McCormick's students, present and past, along with colleagues at Cass Technical High School submitted heartfelt letters, tributes and videos through the application process. To celebrate her hard work and valuable contribution to theatre education, McCormick will receive a $10,000 grant for her theatre program and a trip to New York City to be recognized during the live CBS broadcast of the 70th Annual Tony Awards on June 12, 2016.
"To think that my students recommended me for this award … that's an honor," said McCormick, who is retiring in June. "I am overwhelmed to be receiving this recognition, and I can't wait to go to the Tony Awards. I have always told my students, 'Good, better, best; never let it rest, until your good gets better and your better is best.' Well, this is certainly the best!"
McCormick is the drama instructor within the Performing Arts curriculum at Cass Technical High School. She teaches courses such as Children's Theatre – an introductory theatre course geared toward teaching the basics of theatre etiquette and technique. Students in this class perform two plays per year for invited middle and elementary school guests. Readers Theatre – a more experienced ensemble of young artists who have decided to pursue theatre/acting as a profession – perform two productions per year for invited high school peers. They travel around the city and the country performing original plays. The students are introduced to Meisner, Stanislavski and some Alexander Technique. Part of the course work is applying for colleges as well as preparing and rehearsing audition materials. McCormick travels with students to either Unified College Auditions or directly to the college campuses to help guide and support her students in their efforts. McCormick directs one play and one musical each year. In addition, she supervises the Performing Arts Guild, which is a troop of comic actors who perform comedy sketch/variety shows to raise money for the Performing Arts department, which is all self-funded.
The Tony Awards will be broadcast in a live three-hour ceremony from the Beacon Theatre on the CBS television network on Sunday, June 12, 2016. For more information on the Tony Awards, visit TonyAwards.com and Facebook.com/TheTonyAwards and follow @TheTonyAwards on Instagram and Twitter.
To learn more about the award, visit tonyawards.com/educationaward.
#ApplaudMyTeacher