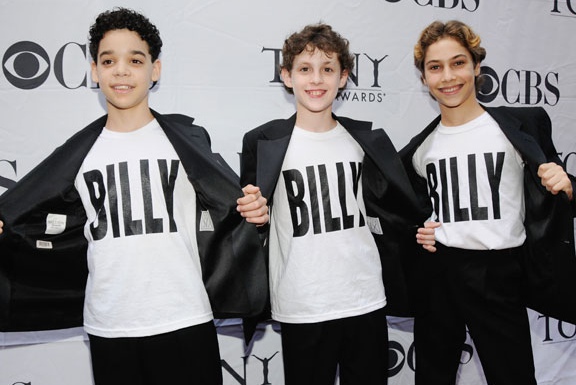 The Youngest Tony Award-Winners
May 20 2013
This season a quartet of pint-sized performers making their Broadway debut are receiving Tony Honors for Excellence in the Theatre. Sophia Gennusa (9), Oona Laurence (10), Bailey Ryon (11) and Milly Shapiro (10) are being recognized with this non-competitive honor for their remarkable performances alternating as the title character of Matilda The Musical.
But who, you might ask, is the youngest individual ever to win an American Theatre Wing Tony Award®?
In 2009, David Alvarez, Trent Kowalik and Kiril Kulish made Tony Award history: All three were nominated as one for Best Actor in a Musical, for alternating the title role in Billy Elliot, and all three won (thankfully, each got his own trophy).
At 14 and 15 years of age, they were quite young, but by no means the youngest actors to win a Tony. In 1991, Daisy Eagan caused a stir with her heartfelt, heartbreakingly teary acceptance of the Best Featured Actress in a Musical prize for playing Mary Lennox in The Secret Garden. Audrey Hepburn, recipient of 1954's Tony for Leading Actress in a Play for her performance in Ondine, presented the award.
Eagan was 11 and a half, but still not the youngest winner ever. That distinction goes to Frankie Michaels, who held his own as Patrick Dennis opposite Angela Lansbury in Mame and against the competition to win 1966's Best Featured Actor in a Musical Tony just a month after turning 11.
This article appears in a slightly different form in the 2013 Tony Awards Commemorative Program published by Where.