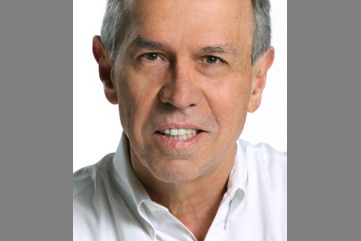 Tony Honor 2013: Peter Lawrence
May 31 2013
"When they called and asked if I would accept a Tony Honor, I said, 'Why, hell, yeah!' It was completely out of the blue, and I couldn't be happier. For a stage manager this is an impossibility - we don't get Tony anything," Peter Lawrence explains. Being recognized with a Tony Honor for Excellence in the Theatre was something this Broadway stage manager and production supervisor couldn't have predicted when he first arrived in New York in 1972, he says.
Lawrence originally came to New York expecting to be a drama critic. A native of Ohio, he spent four years completing a Master's degree at the University of Hawaii. Along with a group of fellow graduate students in the school's theatre department, he founded the Hawaii Performing Arts Company (later known as the Manoa Valley Theatre) in 1969. While living in Hawaii, Lawrence had written theatre reviews for the daily Honolulu morning newspaper. "I was stupid, clearly, thinking that I could take a portfolio of reviews around in New York, and that somebody would hire me," Lawrence reflects.
Arriving in the Big Apple
Though is career as a critic ended when he arrived in the Big Apple, Lawrence landed a job as box office treasurer at the downtown Mercer Arts Center for a revival of One Flew Over the Cuckoo's Nest. Coincidentally, the man who hired him was the show's general manager, Bill Craver, who will also receive a Tony Honor this year.
While working at the Mercer box office Lawrence met Harvey Medlinksy, a former stage manager who had worked with director Mike Nichols on the Neil Simon 1960s hits Barefoot in the Park and The Odd Couple. Medlinsky was now managing a chain of dinner theatres around the country. "He came in and said he was looking for a stage manager and asked if I knew any," recalls Lawrence. "I had never done this in my life, but I said, 'Oh, I am a stage manager.'" Lawrence got the job working in the dinner theatres, and then subsequently moved on to stock.
"If people ask me if I can do this or that, the answer for me is always yes," Lawrence explains. "My Master's was in directing and I was the producing manager at the theatre in Hawaii, and when working in stock I did a lot of different things in the theatre."
A Broadway Debut
In 1977, Lawrence got his first stage managing job on Broadway, where he has been working steadily ever since. The play was Judith Ross's An Almost Perfect Person. Zoe Caldwell directed, and Coleen Dewhurst played the lead. "I wouldn't have a Broadway career without those two women," says Lawrence. "I had done a show in stock with them in Chicago, and they said they wouldn't do this show on Broadway without me."
When talking about his career and the people who influenced him, he lists working with director Mike Nichols as a highlight. "Hurlyburly in 1984 was my first show with Mike, and he changed my life. In addition to becoming my friend, he gave me an aesthetic about the theatre that no one else had. He rejuvenated me artistically every time we did a show. I also did five plays with Neil Simon, who is a great, great, craftsman; and I worked for Cameron Mackintosh for five or six years as his executive producer on Les Mis and Miss Saigon," Lawrence adds. "Cameron was also a huge influence on me. Like Mike, he had a view of the way theatre works that is unlike anybody else in the world. He taught me about producing musicals on a large scale and internationally."
Over his 30-plus years on Broadway, Lawrence has had many different titles, depending on the production. Most of the time he has been billed as production stage manager. But regardless of the title, he says, his work backstage is essentially the same. "Before a show opens the stage manager takes care of all the technicalities – setting all the lighting and the scenic cues, arranging the rehearsals and making sure they happen, staying in daily contact with the actors. All the way to opening night we are the ones who make sure everything the director, choreographer, scenic designer and general manager say they want, happens. As soon as the show opens everything shifts, because then you run the building backstage. This means giving acting notes to the performers and making sure that technically the show is maintained the way it is designed. The stage manager or assistants also 'call' the show [give the cues] every night. So I feel entirely responsible for the backstage health of the show – artistic, technical, and, I guess, social."
Annie and Beyond
Lawrence is currently production supervisor for the Tony-nominated revival of Annie, a show that he says has been "a huge part of my life." He met his ex-wife when he was working the national tour of the Charles Strouse/Martin Charnin musical in 1979. (They were married for 23 years and have two children.) "You know what people say, beware of kids and dogs on stage? But I have had the best time on Annie," he reports. "It is so great to see these kids growing up in such a wonderful way – they were 7 to 12 when they went into rehearsal and now, of course, they are a year older. I am close to them, and to their mothers; we have parties together. They are good-hearted and very talented. I have not a bad thing in the world to say about working with kids."
He will be leaving Annie the day after the June 9 Tony Awards ceremony to work on new projects -- a workshop of the new musical version of Bull Durham and, in August, The Last Goodbye, a new musical by Jeff Buckley and Michael Kimmel based on Romeo and Juliet, directed by Alex Timbers, in San Diego. As an adjunct professor at Columbia, he also intends to continue teaching his courses – one called "Directing for Stage Managers" and the other on Production Management.
"One of the things about stage managing is that it requires a great deal of stamina," Lawrence notes. "There is six-week period on a musical where you are working every day from 8:00 a.m. until 1:00 a.m., usually without a day off. I am not going to be in this business forever, and teaching is something I really enjoy. But for now, I want to keep working."
Lawrence continues to do so, now with additional validation from the Tony Awards. "This Tony Honor is so important to me," he says. "There are 9,000 people in the small farm town where I grew up, and to come from that and become a part of the Broadway community -- that is really everything I have ever wanted out of the theatre."