Namir Smallwood and Jon Michael Hill in Antoinette Chinonye Nwandu's Pass Over.
Photo by Joan Marcus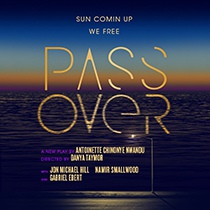 In Pass Over, Antoinette Chinonye Nwandu's new play, Moses and Kitch talk smack, pass the time, and hope that maybe today will be different. As they dream of their promised land, a stranger wanders into their space and disrupts their plans. Evoking heartbreak, hope, and joy over its 85 minutes, Pass Over crafts everyday profanities into poetic and humorous riffs, illuminating the unquestionable human spirit of young men looking for a way out.
THEATRE:
August Wilson Theatre
OPENING NIGHT:
Aug. 22, 2021
FINAL PERFORMANCE:
Oct. 10, 2021
Author:
Antoinette Chinonye Nwandu