Brian Cox, Richard Thomas, and Gordon Clapp (l. to r.) in Robert Schenkkan's The Great Society.
Photo: Evan Zimmerman for MurphyMade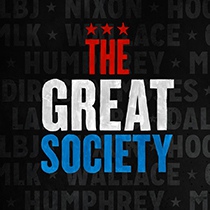 17 actors. Over 50 characters. One epic political drama. Capturing President Lyndon B. Johnson's passionate and aggressive attempts to build a just society for all, Robert Schenkkan's play follows Johnson's epic triumph in a landslide election to the agonizing decision not to run for re-election just three years later. It was an era that would define history forever: the rise of the Civil Rights Movement, the deaths of Martin Luther King Jr. and Robert F. Kennedy, the escalation of the Vietnam War, and the creation of some of the greatest social programs America has ever known—and one man was at the center of it all: LBJ. Brian Cox starred as the 36th U.S. President.
THEATRE:
Vivian Beaumont Theatre
OPENING NIGHT:
Oct. 1, 2019
FINAL PERFORMANCE:
Nov. 30, 2019