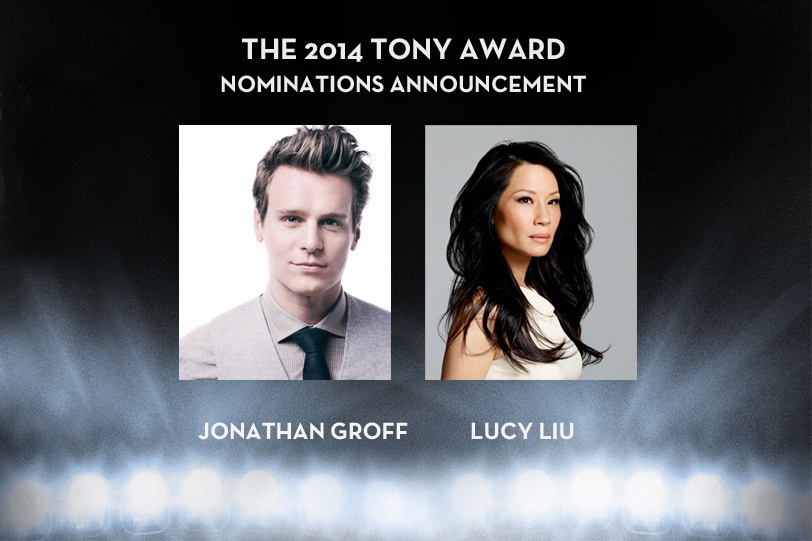 Jonathan Groff and Lucy Liu to Announce 2014 Tony Nominations on April 29, Live at TonyAwards.com
March 23 2014
A pair of stage and screen stars will be on hand on April 29 to announce the nominations for the American Theatre Wing's 2014 Tony Awards®. Past Tony-nominee Jonathan Groff will join Lucy Liu to reveal the names in a live webcast seen on TonyAwards.com.
The Nominations Announcement webcast will begin at 8:30 a.m. ET on Tuesday, April 29.
A 2007 Tony-nominee for his performance in Spring Awakening, Groff currently stars in HBO's Looking. Liu currently leads the cast of Elementary on CBS and is an accomplished screen actress who made her Broadway debut in God of Carnage.
Groff and Liu will reveal the recipients of nominations in each of the 26 competitive categories. Productions that opened during the 2013-2014 Broadway season on or before the April 24 cut-off date may be eligible for Tony Awards this year.
You can get to know the 2014 Tony-eligible shows in our Spotlight Series, featuring video, photos, and more.
Hugh Jackman will host the 68th Annual Tony Awards, presented by The Broadway League and the American Theatre Wing, on June 8. The ceremony will be broadcast on CBS live from Radio City Music Hall at 8/7c (delayed PT).
Live Video Webcast, Plus Live Tweeting
You can watch the Nominations Announcement, which is sponsored by IBM and presented courtesy of NY1 News, live here at TonyAwards.com. Our webcast begins at 8:30 a.m. ET on April 29.
In addition to providing live video feed, we'll post the complete list of nominees immediately afterwards. We'll also tweet the nominations live at Twitter.com/TheTonyAwards.
CBS This Morning will air a portion of the nominations live. The NYC cable TV channel NY1 will carry the event in its entirety, as will TonyAwards.com. Our live video webcast is courtesy of NY1.
The Nominations Announcement takes place at the Diamond Horseshoe at the Paramount Hotel in midtown Manhattan. There is no admission to the public.
Here is a complete calendar of 2014 Tony Awards events.
About Jonathan Groff
Jonathan Groff currently stars as "Patrick" in the new HBO television series Looking, which revolves around three gay best friends grappling with the complexities of life in modern-day San Francisco.
He made his Broadway debut in Spring Awakening, receiving a Theatre World Award, as well as Tony, Drama Desk, and Drama League Award nominations. His Off Broadway credits include The Submission (MCC Theater); The Bacchae (The Public Theater); Craig Lucas' The Singing Forest and Prayer for My Enemy (Obie Award); and Hair (The Public Theater). In London's West End he starred in Deathtrap at the Noël Coward Theatre. Regional credits include Red at the Mark Taper Forum in Los Angeles.
Groff has also appeared on television in Boss, Glee, The Good Wife, and One Life to Live. His films include HBO's upcoming adaptation of Larry Kramer's play The Normal Heart, Frozen, C.O.G., The Conspirator, Twelve-Thirty and Taking Woodstock.
About Lucy Liu
Lucy Liu has had great critical and commercial success in film, television and on Broadway. Liu co-stars in the hit CBS series Elementary as "Dr. Joan Watson" alongside Jonny Lee Miller as "Sherlock Holmes,"for which she has earned a 2014 Prism Awards nomination and a 2013 Teen Choice Award. In 2012 her portrayal of "Officer Jessica Tang" in the series Southland won a 2012 Critics' Choice Award and a 2013 NAACP award nomination. Liu's recent films include The Man with the Iron Fists, Kung Fu Panda 2, Detachment, East Fifth Bliss, and Someday This Pain Will Be Useful to You.
Liu made her Broadway debut in 2010 in Yasmina Reza's Tony Award-winning Best Play God of Carnage.
Liu's previous film credits include Charlie's Angels, Charlie's Angels: Full Throttle, Kill Bill, Chicago, Code Name: The Cleaner, Rise, Watching The Detectives, Domino, Lucky Number Slevin, 3 Needles, Shanghai Noon, Payback, Play It to the Bone, Ballistic: Ecks Vs Sever and The Year of Getting To Know Us. Her debut as a film producer came with Freedom's Fury, which premiered at the Tribeca Film Festival in 2006.
On television, Liu was nominated for an NAACP award for her starring role in Lifetime Network's Marry Me. She appeared as "Ling Woo" in the hit Fox series Ally McBeal, for which she earned an Emmy and Screen Actors Guild Award nominations. She has also appeared in starring roles on Cashmere Mafia and Dirty Sexy Money and has guest-starred on HBO's Sex & The City, Joey, and Ugly Betty and has lent her voice to such animated television hits as The Simpsons, Futurama and King of the Hill.
Liu has collaborated with musician and singer Jeymes Samuel of the UK band The Bullitts on their LP They Die by Dawn and Other Short Stories.
When not appearing on stage or screen, Liu can often be found in her art studio in New York City. She is a successful visual artist who has exhibited works in several shows over the past 20 years with media ranging from painting, sculpture, photography and mixed media. Salma Editions published her first book of art in the fall of 2012, a collection of ink and acrylic paintings on paper, entitled Seventy Two.
A passionate human rights advocate, Liu has been involved in three films exposing and chronicling the tragedies and injustices of the international child-trafficking industry. She has been a UNICEF ambassador since 2004. In 2006, Liu was awarded the Woman's World Award for her outstanding humanitarian work, presented to her by former Pakistan Prime Minister Benazir Bhutto, and sponsored by the World Award organization headed by former Russian President Mikhail Gorbachev. In 2008, she received UNICEF'S Danny Kaye Humanitarian Award for helping to advocate child survival by harnessing the power of celebrity to further worldwide issues and causes. In 2012 she was honored by Women for Women International with their prestigious Champion for Peace Award and The Muse Award from New York Women in Film.