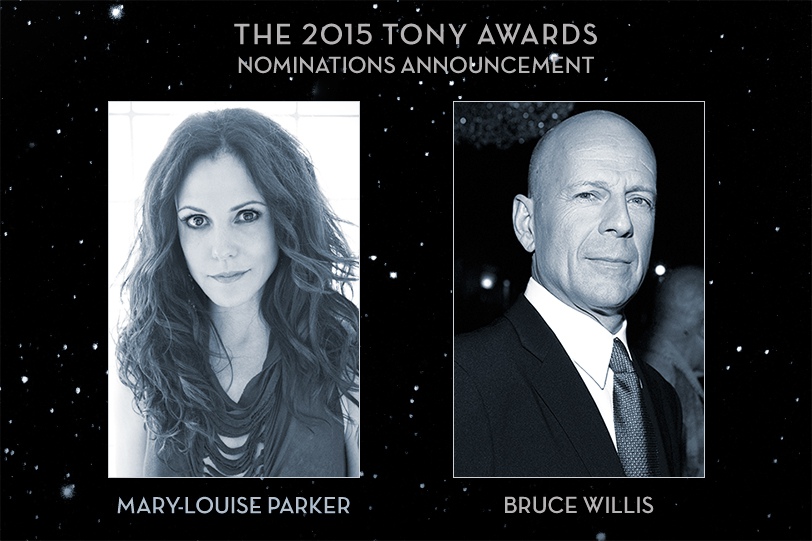 Mary-Louise Parker and Bruce Willis Co-Host the Tony Nominations Announcement in Live Webcast on April 28, 2015
April 14 2015
It's the moment when all of Broadway holds it breath, waiting to hear which shows and artists will receive nominations for the American Theatre Wing's Tony Awards®.
Past Tony Award-winner and three-time nominee Mary-Louise Parker will join Bruce Willis, the Emmy and Golden Globe winner who is set to make his Broadway debut in the upcoming play Misery, to reveal the nominee names.
The Nominations Announcement webcast will begin at 8:30 a.m. ET on Tuesday, April 28. You can watch a live webcast of the entire announcement here at TonyAwards.com, as well as on TWC NEWS/NY1 cable. CBS This Morning will also cover the event.

Parker, who is an Emmy and Golden Globe Award winner, will star in Heisenberg by Simon Stephens Off Broadway at Manhattan Theatre Club in May. She received a 2001 Tony Award for her performance in the David Auburn play Proof.
This coming fall Willis will star on Broadway in Misery, a new stage adaptation by William Goldman of the acclaimed Stephen King novel.
Parker and Willis will reveal the recipients of nominations in each of the 24 competitive categories. Productions that opened during the 2014-2015 Broadway season on or before the April 23 cut-off date may be eligible for Tony Awards this year.
You can get to know the 2015 Tony-eligible shows in our Spotlight Series, featuring videos, photos, and more.
The 69th Annual Tony Awards, presented by The Broadway League and the American Theatre Wing, will take place on June 7. The ceremony will be broadcast on CBS live from Radio City Music Hall at 8/7c (delayed PT).
Live Video Webcast, Twitter, CBS, and TWC NEWS/NY1

You can watch the Nominations Announcement, which is sponsored by IBM and presented courtesy of TWC NEWS/NY1, live here at TonyAwards.com. Our webcast begins at 8:30 a.m. ET on April 28. Go to this page to watch.
In addition to providing live video feed, we'll post the complete list of nominees immediately afterwards. We'll also cover the nominations live on Twitter @TheTonyAwards.
CBS This Morning will air a portion of the nominations live. The NYC cable TV channel TWC NEWS/NY1 will carry the event in its entirety, as will TonyAwards.com. Our live video webcast is courtesy of TWC NEWS/NY1.
The Nominations Announcement takes place at the Diamond Horseshoe at the Paramount Hotel in midtown Manhattan. There is no admission to the public.
Here is a complete calendar of 2015 Tony Awards events.
About Mary-Louise Parker
Mary-Louise Parker's performance in Manhattan Theater Club's production of David Auburn's Tony and Pulitzer Prize-winning play Proof earned her the 2001 Tony Award®, as well as the Drama Desk, Outer Critics Circle, Drama League, Lucille Lortel, Obie, and New York Magazine Awards, and the T. Schreiber Award for Outstanding Achievement in Theatre. Parker made her Broadway debut in Prelude to a Kiss, garnering a Tony Award nomination, a Theatre World Award, The Clarence Derwent Award and a Drama Desk nomination. She originated the role of 'Li'l Bit' in Paula Vogel's Pulitzer Prize-winning How I Learned to Drive, which earned Parker an Obie Award, Lucille Lortel Award and an Outer Critics Circle nomination. She starred also in the Broadway revival of Reckless, for which she received her third Tony Award nomination. Parker starred in Sarah Ruhl's Dead Man's Cell Phone for Playwrights Horizons in 2008, and in the Roundabout revival of Hedda Gabler in 2009. She appeared most recently on Broadway in Sharr White's original drama The Snow Geese for Manhattan Theater Club and MCC, reuniting her with Proof director Daniel Sullivan.
Parker's work on Showtime's "Weeds" earned her the Golden Globe Award, as well as four Golden Globe nominations, the Satellite Award and additional five nominations, three Emmy nominations, and six SAG Award nominations.
Her work in Mike Nichols' "Angels in America" garnered her an Emmy Award and the Golden Globe Award; and her work on "The West Wing" and in the television movie "The Robber Bride" were recognized with Emmy nominations, the latter winning her a Gemini Award. For the small screen she starred also in "Sugartime", "Saint Maybe", "A Place for Annie", "Vinegar Hill", and many others.
Audiences recently saw Parker on the big screen in the hit action-comedies Red and Red 2 with Bruce Willis and Helen Mirren. She was also featured in R.I.P.D. alongside Ryan Reynolds and Jeff Bridges and in the independent films Jamesy Boy and Behaving Badly.
Most recently she completed filming the independent feature Chronically Metropolitan.
Parker's other film work includes Romance & Cigarettes, written and directed by John Turturro and produced by the Coen Brothers, and the dark Christian comedy Saved! Parker is known widely for her starring roles in Longtime Companion, Grand Canyon, Fried Green Tomatoes, Naked In New York, The Client, Bullets Over Broadway, Boys On The Side, Reckless, Pipe Dream, Red Dragon, The Best Thief In The World, The Spiderwick Chronicles, Solitary Man, Howl and The Five Senses, for which she was nominated for a Genie Award.
Additional theatre credits include Communicating Doors, Bus Stop, Four Dogs and a Bone, The Art of Success, Throwing Your Voice, Babylon Gardens, The Importance of Being Earnest, Up in Saratoga, The Miser, and Hay Fever. She co-founded the Edge Theater, where she performed in The Age of Pie and The Girl in Pink, among other productions.
Parker is a contributing writer for Esquire magazine. She won the Robert Brustein Award for 'Excellence in Theater' and the Philadelphia Film Festival Award for 'Career Achievement' and was recently awarded Steppenwolf theaters' 'Excellence in the Arts'. Her personal and professional belongings, along with career memorabilia, are archived at the Howard Gotlieb Archival Research Center at Boston University.
About Bruce Willis
Bruce Willis has demonstrated incredible versatility in a career that has included such diverse characterizations as the prizefighter in Quentin Tarantino's Pulp Fiction (1994 Palme D'Or winner at Cannes), the philandering contractor in Robert Benton's Nobody's Fool, the heroic time traveler in Terry Gilliam's 12 Monkeys, the traumatized Vietnam veteran in Norman Jewison's In Country, the compassionate child psychologist in M. Night Shyamalan's Oscar®-nominated The Sixth Sense (for which he won the People's Choice Award) and his signature role, Detective John McClane, in the Die Hard pentalogy.
Following studies at Montclair State College's prestigious theater program, the New Jersey native honed his craft in several stage plays and countless television commercials, before landing the leading role in Sam Shepard's 1984 stage drama Fool for Love, a run which lasted for 100 performances Off Broadway. Willis next won international stardom and several acting awards, including Emmy® and Golden Globe® honors, for his starring role as private eye David Addison on the hit television series "Moonlighting," winning the role over 3,000 other contenders. At the same time, he made his motion picture debut opposite Kim Basinger in Blake Edwards' romantic comedy Blind Date.
In 1988, Willis originated the role of John McClane in the blockbuster film, Die Hard, one of the highest-grossing releases of that year. He later reprised the character in four sequels: Die Hard: Die Harder (1990), Die Hard: With A Vengeance (1995's global box-office champ), Live Free, Die Hard (one of the box-office hits of summer 2007) and a Good Day To Die Hard (2013). His wide array of film roles includes collaborations with such respected filmmakers as Michael Bay (Armageddon), M. Night Shyamalan (The Sixth Sense, Unbreakable), Alan Rudolph (Mortal Thoughts, Breakfast of Champions), Walter Hill (Last Man Standing), Robert Benton (Billy Bathgate, Nobody's Fool), Rob Reiner (The Story of Us), Edward Zwick (The Siege), Luc Besson (The Fifth Element), Barry Levinson (Bandits, What Just Happened), Robert Zemeckis (Death Becomes Her) and Robert Rodriguez (Sin City, Grind House). Other motion picture credits include Red, The Jackal, Mercury Rising, Hart's War, The Whole Nine Yards (and its sequel The Whole Ten Yards), The Kid, Tears of the Sun, Hostage, 16 Blocks, Alpha Dog, Lucky Number Slevin and Perfect Stranger.
He also voiced the character of the wise-cracking infant, Mikey, in Look Who's Talking and Look Who's Talking Too as well as the lead characters RJ & Spike in the animated hit features Over the Hedge and Rugrats Go Wild!
In 2012, Willis successfully added to his credits, two critically acclaimed films: director Wes Anderson's Moonrise Kingdom, for which Willis and the film received Independent Film Award nominations, and director Rian Johnson's sci-fi thriller Looper, co-starring Joseph Gordon Levitt.
An accomplished musician as well, Willis recorded the 1986 Motown album The Return of Bruno, which went platinum and contained the No. 5 Billboard hit "Respect Yourself." Three years later, he recorded a second album If It Don't Kill You, It Just Makes You Stronger. In 2002, he launched a U.S. club tour with his musical group, Bruce Willis and the Blues Band and he traveled to Iraq to play for U.S. servicemen.