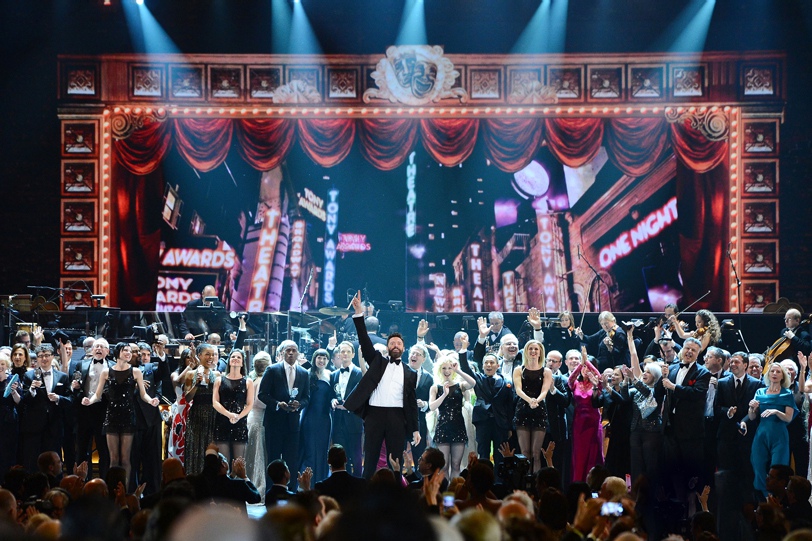 The 68th Annual Tony Awards Broadcast Honored with Three Primetime Emmy Nominations
July 16 2015
The June 2014 broadcast of the American Theatre Wing's 68th Annual Tony Awards® has been honored with three Prime Time Emmy Award nominations. The Tony Awards are presented by The Brooadway League and the American Theatre Wing.
The 2014 Tony Awards, broadcast on CBS and hosted by Hugh Jackman, was nominated in the following categories:
Outstanding Directing for a Variety Special – Directed by Glenn Weiss
Outstanding Special Class Program – Ricky Kirshner, Executive Producer; Glenn Weiss Executive Producer
Outstanding Technical Direction, Camerawork, Video Control for a Miniseries, Movie or a Special – Technical Direction by Eric Becker and Mike Anderson; Camerawork by Rob Balton, Robert Del Russo, Charlie Huntley, Ernie Jew, John Kosmaczewski, Jay Kulick, Tore Livia, John Meiklejohn, Lyn Noland, Jim Tufaro and Mark Whitman; Video Control by Paul Ranieri and Ka-Lai Wong
The nominations were announced on July 16 in Los Angeles.
"Glenn, Ricky and the entire Tony Awards team is incredibly hardworking and dedicated to creating an outstanding show each year, and we are thrilled their hard work has been recognized in such a phenomenal way," said Heather Hitchens, President of the American Theatre Wing, and Charlotte St. Martin, President of The Broadway League in a statement.
Ricky Kirshner and Glenn Weiss of White Cherry Entertainment have acted as executive producers of the Tony Awards telecast since 2004. During White Cherry's tenure, the Tony Awards have been recognized with an unprecedented 30 Emmy nominations and 19 Emmy wins, including the best show in its class for the last 4 consecutive years, and 7 of the last 8 outings. That recognition is far more than any time in Tony Awards history, and unparalleled by any other awards show today.
The Antoinette Perry "Tony" Award, which was founded by the American Theatre Wing in 1947, is bestowed annually on theatre professionals for distinguished achievement on Broadway. The Tony is one of the most coveted awards in the entertainment industry and the annual telecast – the night America watches Broadway – is considered one of the most prestigious programs on television.