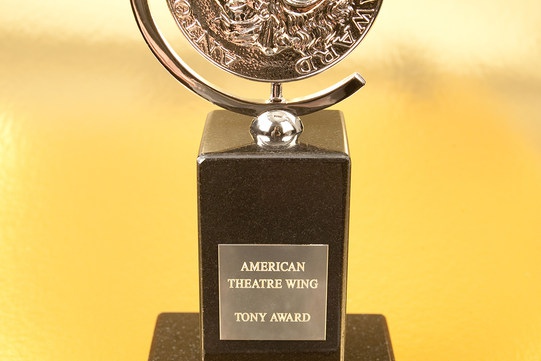 Tony Awards Announce Calendar of Dates for 2016
January 5 2016
With the 2016 awards less than six months away, the Tony Awards has announced the calendar for the upcoming 2015-2016 Tony Awards season.
The American Theatre Wing's 70th Annual Antoinette Perry "Tony" Awards®, which are presented by The Broadway League and the American Theatre Wing, will air on CBS on Sunday, June 12th from 8:00 – 11:00 PM (ET/PT time delay).
The following is an outline of 2016 Tony Awards events and dates. We'll add more dates and details to our online calendar throughout the winter and spring.
Thursday, April 28, 2016
Official cut-off for 2015-2016 Tony Eligibility
Tuesday, May 3
The 2016 TONY AWARD NOMINATIONS ANNOUNCEMENT, sponsored by IBM, will take place at the historic Diamond Horseshoe at the Paramount Hotel. A live webcast of the event will be available at www.TonyAwards.com. A complete list of the 2016 nominations will be available at www.TonyAwards.com immediately following the webcast.
Wednesday, May 4
The annual MEET THE NOMINEES PRESS RECEPTION, where the nominees will speak with media outlets from around the world about their Tony Nominations, will take place at the Paramount Hotel. No admission to the public. Press must pre-register for this event.
Thursday, May 19
The exclusive TONY NOMINEES' LUNCHEON, hosted by the Paramount Hotel, is a chance for the nominees to celebrate each other's achievements and receive their nomination certificates. The luncheon will be held at the Diamond Horseshoe. This event is closed to the media and the public.
Sunday, June 12
THE 70th ANNUAL TONY AWARDS will take place at the Beacon Theatre. The three-hour ceremony will be broadcast live (ET/PT time delay) on the CBS Television Network from 8:00 – 11:00 PM. The awards will be followed by the invite-only Tony Gala.
For more information on the Tony Awards, visit www.TonyAwards.com, Facebook.com/TheTonyAwards and follow @TheTonyAwards on Instagram and Twitter.