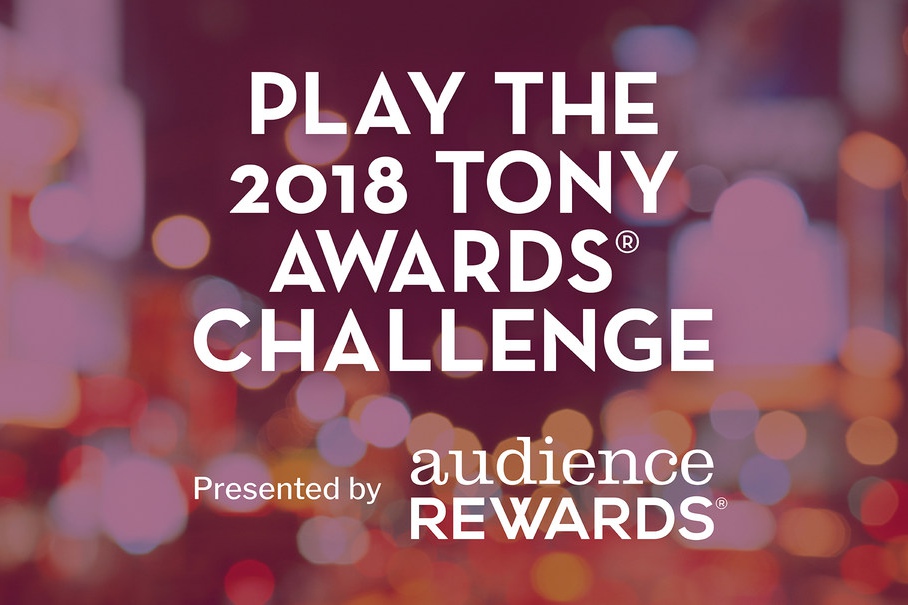 Predict the Winners with the 2018 Tony Awards Challenge!
May 3 2018
Who do YOU think will win big on May 10?
Audience Rewards® and the 72nd Annual Tony Awards® have announced the 2018 Tony Awards Challenge, an interactive game that invites theatre fans to predict who will win the Tony Awards. To play, visit TonyAwardsChallenge.com.
The Ultimate Challenge for Broadway Lovers
If you're a Broadway expert—or even if you're not—you can play the game for free, and share your predictions with your friends. Similar to fantasy football, you can start your own league (or multiple leagues) and play against friends and family.
Then, on Sunday, June 10, tune in to the Tony Awards live on CBS to cheer on your favorite artists and shows. Your picks will be updated in real time on the TonyAwardsChallenge.com site. Throughout the telecast, you'll be able to see how you rank compared to other players in your leagues.
There are prizes for fans, too! Players who correctly guess all 26 categories could win free Broadway tickets for a full year. And regardless of accuracy, all players will also be entered to win a pair of tickets to the invitation-only 2019 Tony Awards dress rehearsal.
"For anyone who loves Broadway, we think it's a lot of fun to be able to play along with the Tonys. It's like fantasy football for theatre fans," said Audience Rewards CEO Charles Flateman. "We're thrilled to give theatregoers the chance to share their enthusiasm with friends and family through this game, in partnership with the Tony Awards this year."
"Audience Rewards has created a fun and interactive way for theatre goers to be part of Broadway's Biggest Night!" said Charlotte St Martin, President of The Broadway League and Heather Hitchens, President and CEO of the American Theatre Wing, in a statement. "We love this opportunity which allows the Tony Awards to engage with Broadway fans from around the globe."
About Audience Rewards and the Tony Awards
The Tony Awards Challenge is presented by Audience Rewards, the Official Rewards Program of Broadway & The Arts. Similar to a frequent flyer program for theatre, Audience Rewards enables members to earn points for purchasing Broadway tickets and redeem them for tickets, merchandise and behind-the-scenes experiences.
The American Theatre Wing's 72nd Annual Tony Awards, hosted by Sara Bareilles and Josh Groban, will air on the CBS Television Network on Sunday, June 10, 2018 (8:00-11:00 PM, ET/delayed PT) live from Radio City Music Hall in New York City. Or stream the Tony Awards live across platforms with the CBS All Access subscription service. (Live stream is available in select markets. Visit CBS.com/allaccess for details.)
The Tony Awards, which honors theatre professionals for distinguished achievement on Broadway, has been broadcast on CBS since 1978. The Tony Awards are presented by The Broadway League and the American Theatre Wing.