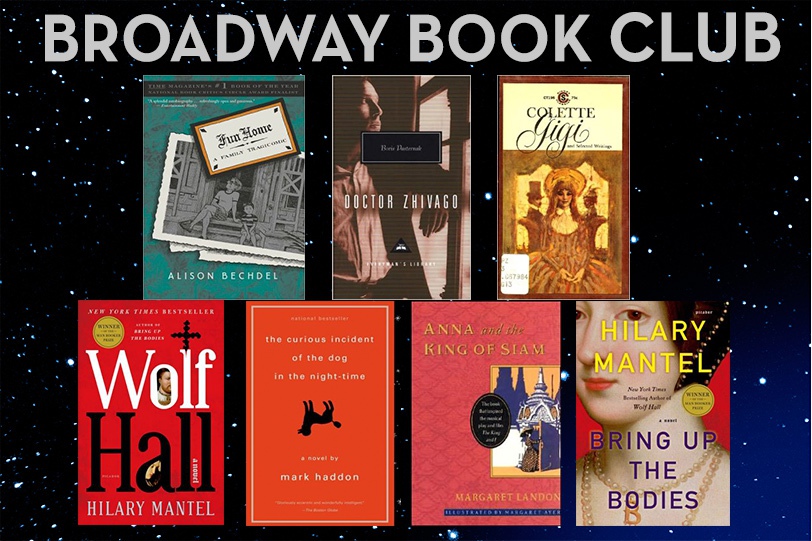 Broadway by the Books 2015
March 17 2015
This Broadway season has included a number of page-to-stage adaptations. From Mark Haddon's popular The Curious Incident of the Dog in the Night-Time to Alison Bechdel's graphic memoir, Fun Home, to Hilary Mantel's historical novel, Wolf Hall, we counted seven books-turned-Broadway-shows in the 2014-2015 season.
Which of these shows do you think will be on the list when the 2015 Tony Award Nominations are announced on April 28?
Here's your chance to get your friends together, open a bottle of wine and make a night of it with your official guide to the Tony Awards® Broadway Book Club. Then make sure to watch the Tony Awards, Sunday June 7 on CBS.
See below for our list -- read the books and see the shows on Broadway!
The Curious Incident of the Dog in the Night-Time

Christopher John Francis Boone knows all the countries of the world and their capitals and every prime number up to 7,057. He relates well to animals but has no understanding of human emotions. He cannot stand to be touched. And he detests the color yellow. This improbable story of Christopher's quest to investigate the suspicious death of a neighborhood dog makes for one of the most captivating, unusual, and widely heralded novels in recent years. Now the National Theatre production on Broadway tells Christopher's story.




Wolf Hall: Part One

England in the 1520s is a heartbeat from disaster. If the king dies without a male heir, the country could be destroyed by civil war. Henry VIII wants to annul his marriage of twenty years and marry Anne Boleyn. The pope and most of Europe opposes him. Into this impasse steps Thomas Cromwell: a wholly original man, a charmer and a bully, both idealist and opportunist, astute in reading people, and implacable in his ambition. But Henry is volatile: one day tender, one day murderous. Cromwell helps him break the opposition, but what will be the price of his triumph?This New York Times bestseller is brought to the stage this Broadway season by the Royal Shakespeare Company.

Wolf Hall: Part Two - Bring Up the Bodies

The sequel to Wolf Hall, Hilary Mantel's 2009 Man Booker Prize winner and New York Times bestseller, Bring Up the Bodies delves into the heart of Tudor history with the downfall of Anne Boleyn. Brought to the same stage as Wolf Hall this Broadway season by the Royal Shakespeare Company.

Doctor Zhivago

In the grand tradition of the epic novel, Boris Pasternak's masterpiece brings to life the drama and immensity of the Russian Revolution through the story of the gifted physician-poet, Zhivago; the revolutionary, Strelnikov; and Lara, the passionate woman they both love. Caught up in the great events of politics and war that eventually destroy him and millions of others, Zhivago clings to the private world of family life and love, embodied especially in the magical Lara. One of the most romantic stories ever written comes to Broadway this season as a stunning new musical.

Fun Home

In this bestselling graphic memoir, Alison Bechdel charts her fraught relationship with her late father. In her hands, personal history becomes a work of amazing subtlety and power, written with controlled force and enlivened with humor, rich literary allusion, and heartbreaking detail. Distant and exacting, Bruce Bechdel was an English teacher and director of the town funeral home, which Alison and her family referred to as the "Fun Home." It was not until college that Alison, who had recently come out as a lesbian, discovered that her father was also gay. A few weeks after this revelation, he was dead, leaving a legacy of mystery for his daughter to resolve. This groundbreaking new musical comes to Broadway after a critically acclaimed run at The Public Theater.

Gigi

Gigi is being educated in the skills of the Courtesan: to choose cigars, to eat lobster, to enter a world where a woman's chief weapon is her body. However, when it comes to the question of Gaston Lachaille, very rich and very bored, Gigi does not want to obey the rules. The Broadway musical is set in the magical world of La Belle Epoque Paris, where fashion, glamour and passion prevail. Gigi is based on the novella by Colette.

The King & I - based on Margaret Landon's Anna and the King of Siam

Anna Leonowens, a proper Englishwoman, was an unlikley candidate to change the course of Siamese (Thai) history. A young widow and mother, her services were engaged in the 1860's by King Mongkut of Siam to help him communicate with foreign governments and be the tutor to his children and favored concubines. One of her pupils, the young prince Chulalongkorn, was particularly influenced by Leonowens and her Western ideals. Years later, he would become Siam's most progressive king. Rodgers and Hammerstein's beloved musical returns to Broadway at Lincoln Center.